Bonnie Garmus made a splash in the literary world with her debut novel, Lessons in Chemistry (2022). It tells the story of Elizabeth Zott, a chemist in the 1960s, and her struggle to balance life, love and career while battling the world's judgments about women. Zott challenges the gender stereotypes plaguing women in STEM to date. This novel won the Goodreads Choice Award for Best Debut Novel in 2022, and the book is now being developed into a TV show by Apple TV+, starring Brie Larson as Elizabeth Zott. The show is set to be released in October 2023. I believe that the book is written in a way that makes it perfect for a TV adaptation, and this article will explore why Lessons in Chemistry lends itself perfectly to a TV show adaptation.
Summary of Lessons in Chemistry
It is November 1961 when we meet Elizabeth Zott. She is about to star in a cooking show, Supper At Six, an idea born from her encounter with Walter Pine, whose daughter, Amanda, had been stealing Elizabeth's daughter's lunches.
The narrative then takes us back to January 1952, when Elizabeth worked as a chemist at the Hastings Research Institute. There, she meets Calvin Evans, a brilliant chemist and fellow scientist. As they collaborate on their research, their professional relationship evolves into a deep romantic bond, envied by their colleagues. They start living in and adopt a dog named Sixty-Three. Tragedy strikes when Calvin dies suddenly from a fall while out for an early morning run. Devastated, Elizabeth discovers she is pregnant with Calvin's child.
Furthermore, she uncovers a fraudulent scheme at Hastings orchestrated by Donatti, who misappropriated funds for her research. Elizabeth's pregnancy becomes public knowledge, and she is fired. Determined to persevere, Elizabeth rebuilds her life; she establishes a home laboratory and offers scientific consultations to her former colleagues. Her neighbor, Harriet Sloane, becomes a pillar of support, assisting with her daughter, Madeline.
As the cooking show gains popularity, Elizabeth incorporates scientific explanations into her demonstrations, resonating with homemakers across the nation. However, things soon go downhill for her, and she returns to scientific work, finally securing an offer letter from the Parker Foundation. On the other hand, Madeline makes some potential discoveries about Calvin's family from Wakely, his former pen pal. Ultimately, Elizabeth finds herself back in her laboratory, ready to pursue her scientific dreams while opening her heart and home to the newfound connection with Calvin's biological mother. The novel ends on a hopeful note, symbolizing Elizabeth's resilience and her ongoing journey of self-discovery.
Reasons Why Lessons in Chemistry Is Perfect for a TV Show Adaptation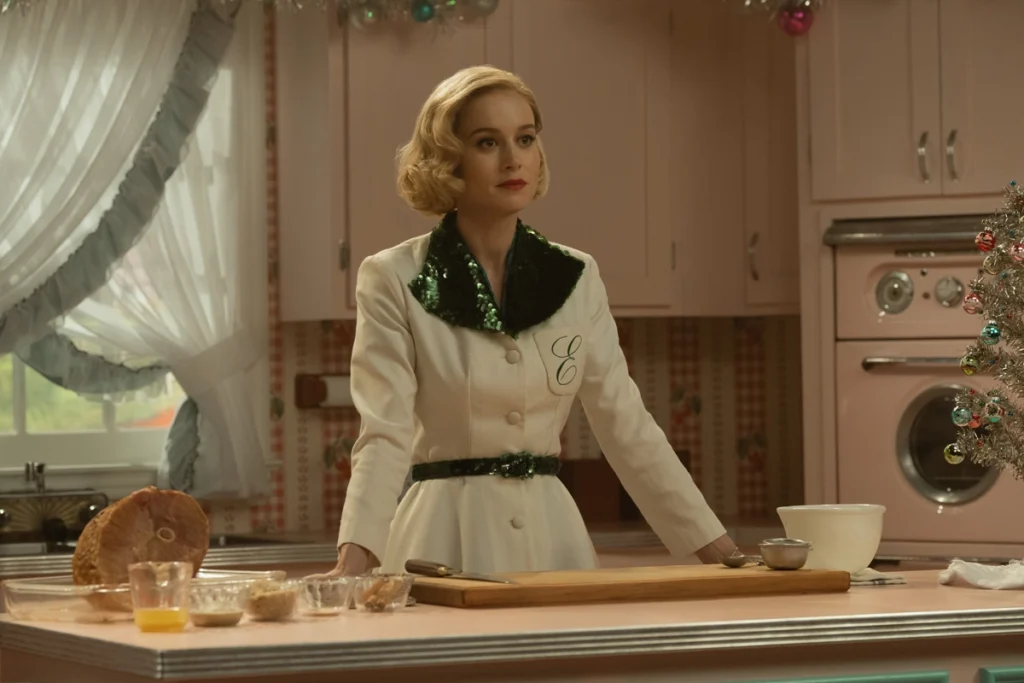 Lessons in Chemistry by Bonnie Garmus possesses all the elements that make for a compelling TV show adaptation. With its engaging characters, a blend of science, personal drama, and good storytelling, the novel has all the ingredients necessary to resonate with a wide range of viewers. Let's discuss these aspects in detail below:
Engaging and Multidimensional Characters
The novel features complex and relatable characters that will likely translate well onto the screen. The character of Elizabeth Zott, for example, is explored throughout the book in various shades. She is a scientist, lover, and single mother, all in one, and the book takes us along her journey as the roles intersect at different junctures of her life. Her character embodies a strong and inspiring female lead, an idea that pop culture completely approves of.
This is a story of a strong-headed woman by a female writer and shall be another wonderful addition to the canon of feisty female characters, including Mrs. Maisel, Annalise Keating, and Peggy Olson. There are several characters in this novel, so many that keeping track of them may feel like a task when you read it. In that case, a TV show adaptation of this novel will successfully capture each character in their element and do justice to Garmus' writing. 
A Blend of Science and Personal Drama
The novel seamlessly weaves the worlds of science and personal drama, offering a unique and refreshing perspective on both. A TV adaptation of the novel will ensure that the runtime allows for equal (hopefully) attention to both these worlds. It could explore the scientific aspects in an engaging and accessible way for the uninformed audience while delving into the emotional arcs of the characters, keeping the audience's attention from wavering. This combination will inevitably appeal to a wide range of viewers, from science enthusiasts to pop-culture lovers of character-driven narratives.
Historical Setting, Social Issues and Timeless Themes
Set in the 1960s, Lessons in Chemistry captures an era of significant social change in American society. It is important to note that the 60s and the 70s saw the second wave of feminism that challenged women's role in marriage and childbearing in postwar American society. Second-wave feminists questioned the casual and systemic socio-cultural inequalities and gendered violence women faced daily. 
A TV adaptation of this novel could leverage the historical backdrop to explore themes of gender inequality and stringent societal norms, especially the challenges women face in the male-dominated STEM field. These themes continue to be relevant in pop culture.
By adapting the novel into a TV show, the audience can easily empathize with the characters on screen. For example, the feeling of grief that Elizabeth experiences after Calvin's death is palpable and real. Although grief is felt differently among human beings, the audience will be able to relate to the feelings of irreparable loss. Besides, the exploration of perfectionism, self-discovery, and resilience shall continue to resonate with contemporary audiences of all ages.
Also Read: What The Three Musketeers: D'Artagnan (2023) Teaches us about Book-To-Screen Adaptation
A Fusion of Drama and Humor
One of the biggest strengths of this novel is Garmus' writing. She infuses the story with dramatic and humorous moments, creating a well-balanced narrative that is neither too dramatic nor too dark. It captures the essence of a well-brewed romance and details the display of grief through a dog, Sixty Three. I personally believe there are several exchanges in the book  – for example, an awkward conversation between Elizabeth and Calvin in the cafeteria of their work when the latter is going to propose marriage – written in a manner so theatrical that it will only fit a TV show. Only a TV adaptation could effectively capture this eclectic blend of moods and perspectives that Garmus' writing brings to the table, providing emotional depth while incorporating humorous elements to enhance the overall viewing experience. This combination will make it an unparalleled comedy show that entertains, engages, and appeals to a diverse audience.
Summing Up
If you haven't read Lessons in Chemistry yet, this is your cue to pick up the book! It will make for a riveting summer read if you are looking for one. Besides, suppose you are one of those who loves to participate in the ever-continuing debate around book-to-screen adaptations. In that case, this may be a valuable resource to back your arguments, for better or worse.