Dive into the 10 best book-to-screen adaptations in 2023 that have left readers and cinephiles impressed alike
2023 has been one for the Hollywood history books! We've seen two major strikes, both of which continued for well over 100 days. The Writers Guild of America called off its strike on 24th September–after 146 days of striking–having negotiated for necessary and meaningful gains and protections for writers. The American actors' union (SAG-AFTRA) strikes ended on 9th November after a labour stoppage for 118 days–the longest in its history. 2023 has also given us Wes Anderson's many mad masterpieces, the latest of Scorsese's passion projects, an increasingly rare good film from the Marvel Cinematic Universe, and the cultural phenomenon Barbenheimer. From the classic icons of literature to graphic novels and biographical works of nonfiction, 2023 has been overflowing with reel adaptations of books. As another year draws to a close, here are only 10 of the best page-to-screen adaptations of 2023. The list is by no means comprehensive, and there are highly anticipated releases still to come.
Oppenheimer, dir. Christopher Nolan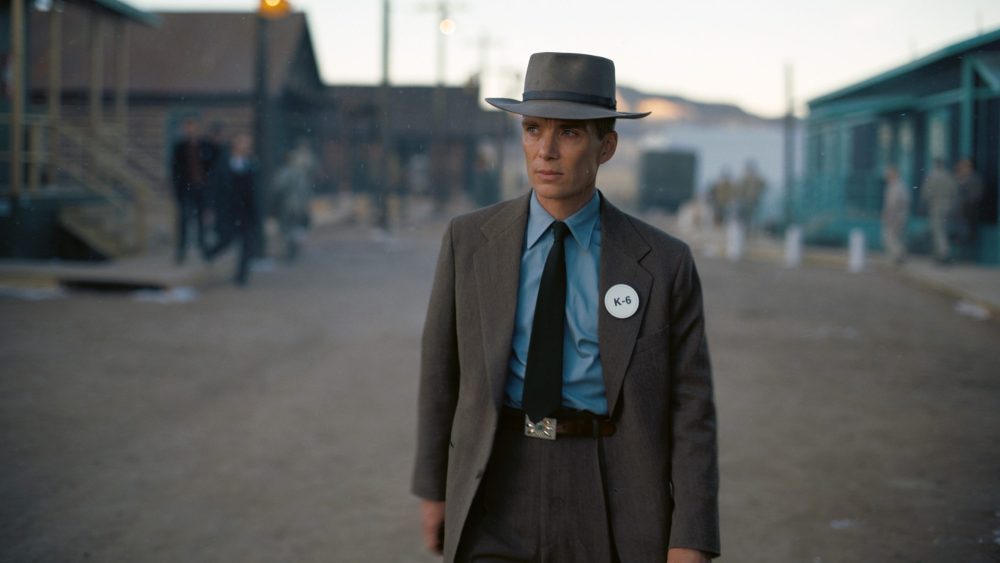 Kai Bird and Martin J. Sherwin's exhaustively researched American Prometheus: The Triumph and Tragedy of J. Robert Oppenheimer is the 2005 biography on Robert Oppenheimer, director of the Manhattan Project and the "father of the atomic bomb." Written over a period of 25 years, the materials for the biography were gathered from FBI transcripts, personal interviews, letters, dissertations, diaries and declassified documents. The book won the 2006 Pulitzer Prize for Biography or Autobiography. Bird and Sherwin's work remains the definitive biography of Oppenheimer. Christopher Nolan's adaptation is a harrowing film with a runtime of little over three hours. Bookended by Oppenheimer's security hearings in 1954, jumping backwards and forwards in time, the film is one of the great iconoclastic epics in the vein of Lawrence of Arabia and There Will Be Blood. Anchored by Cillian Murphy's colossal performance, Nolan's trademark closed-loop structure heightens the inevitable and inescapable reality of the atomic bomb.
Killers of the Flower Moon, dir. Martin Scorsese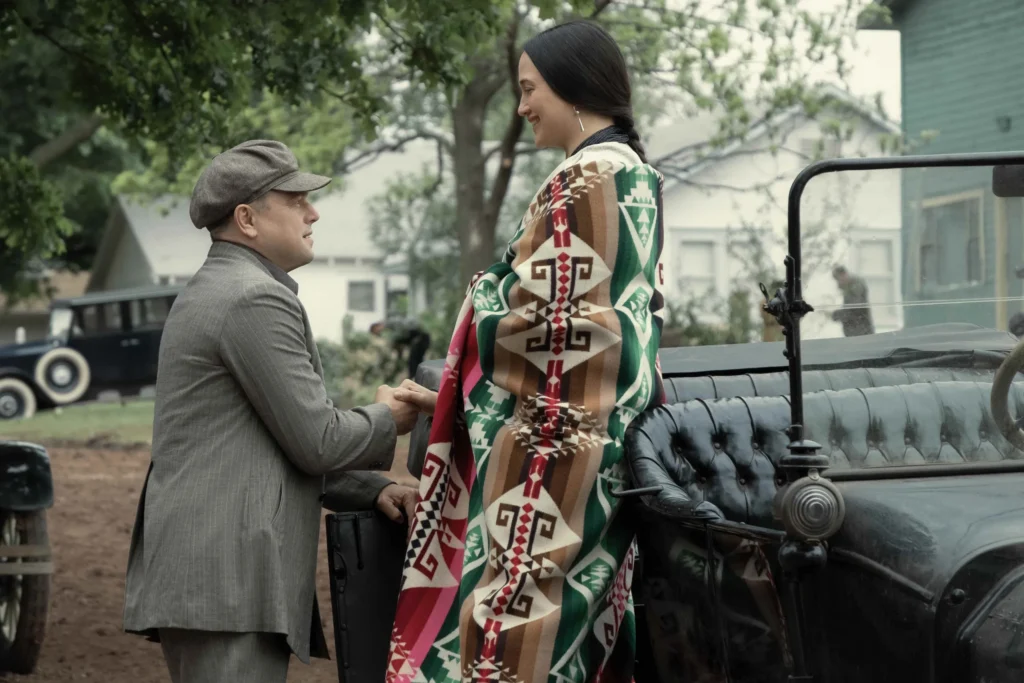 Scorsese's adaptation of David Grann's 2017 non-fiction book of the same name takes the tense procedural and turns it into a relationship and survival drama. Scorsese zeroes in on what is truly engaging about the brutal story–not the birth of the FBI and its subsequent exploitation of one of the darkest chapters in indigenous life in the United States, but rather the uncompromising horror of greed and monstrosity, punctuated by expressions of tenderness, compassion, even misbegotten ideas of love. Scorsese's visual playfulness makes an intimate, gruesome and vivid canvas onto which he paints this slow revelation of the heart of evil. The city of Fairfax, Oklahoma decays and metastasises into banks, cemeteries, dance schools, and hospitals. There are long-winded and darkly funny discussions on whose death is an asset and whose a liability. Lily Gladstone is utterly perfect; Robert de Niro is satanic; and Leonardo di Caprio is an inspired casting as a dim-witted, handsome devil barely concealing his avarice.  I love that money, he exclaims at a game of cards where he wagers jewellery he robbed from an Osage woman at gunpoint, only to lose that hand. When the mask slips and shatters, the audience is only left with nausea to spare.
The Fall of the House of Usher, Mike Flanagan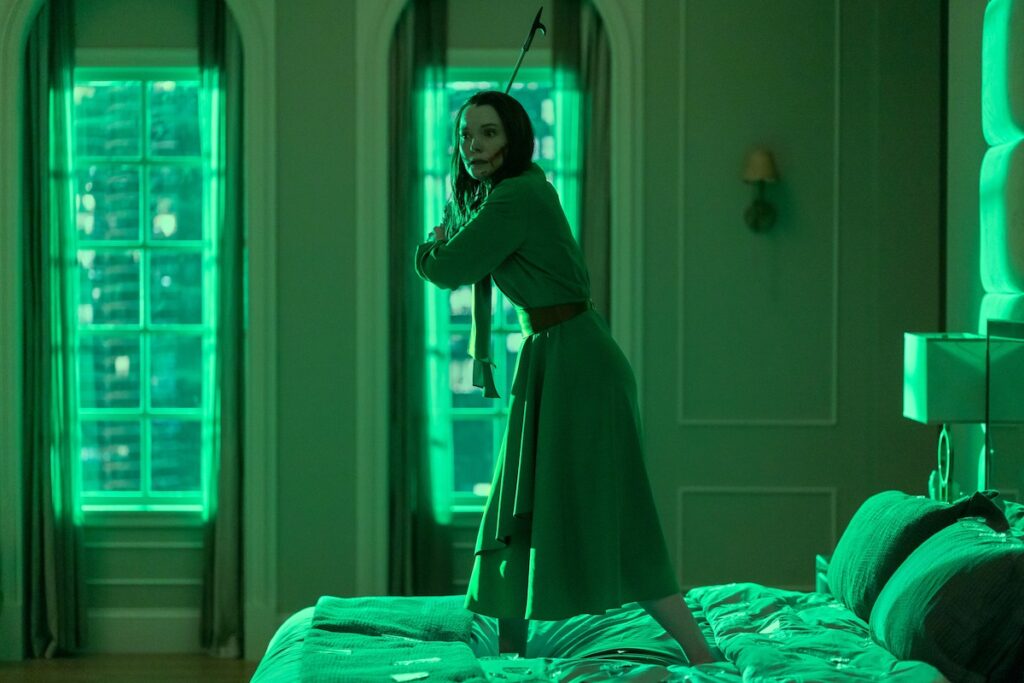 In his latest Netflix offering, Mike Flanagan tackles the opioid epidemic in the United States of America in a prestige horror drama adaptation of Edgar Allan Poe's oeuvre of short stories. He aims the scathing wit of his monologues at the aristocratic perpetrators of the addiction crisis. Taking its inspiration from Poe's symbolically grisly stories, Flanagan translates their philosophical ideas into an emotionally heavy, character-driven march towards the inevitable fall of the Usher family. This Succession-esque story for the Sackler family stand-in is a lesson in adapting iconic literature as modern commentary (The Masque of the Red Death becomes a nightclub orgy painted in red and black hues like something out of Clive Barker. The Tell-Tale Heart becomes a story about medical malpractice). The series combines the monster-of-the-week with the overarching narrative. In the House of Usher, profit is a side deal with a devil, signed and repressed, until it rears its ugly head to be endured by the following generations. There are laugh-out-loud moments of bitter comedy and melodrama packed into the dialogues. With its vivid imagery, spectacular production values, and perfect cast, The Fall of the House of Usher is a parable of decadence and mounting absurdity. The wealthy really do live in a different world, answer to different gods, and are bound by different rules.
Related to Mike Flanagan: Every Mike Flanagan Film Ranked
The Wonderful Story of Henry Sugar, The Swan, The Ratcatcher, Poison, dir. Wes Anderson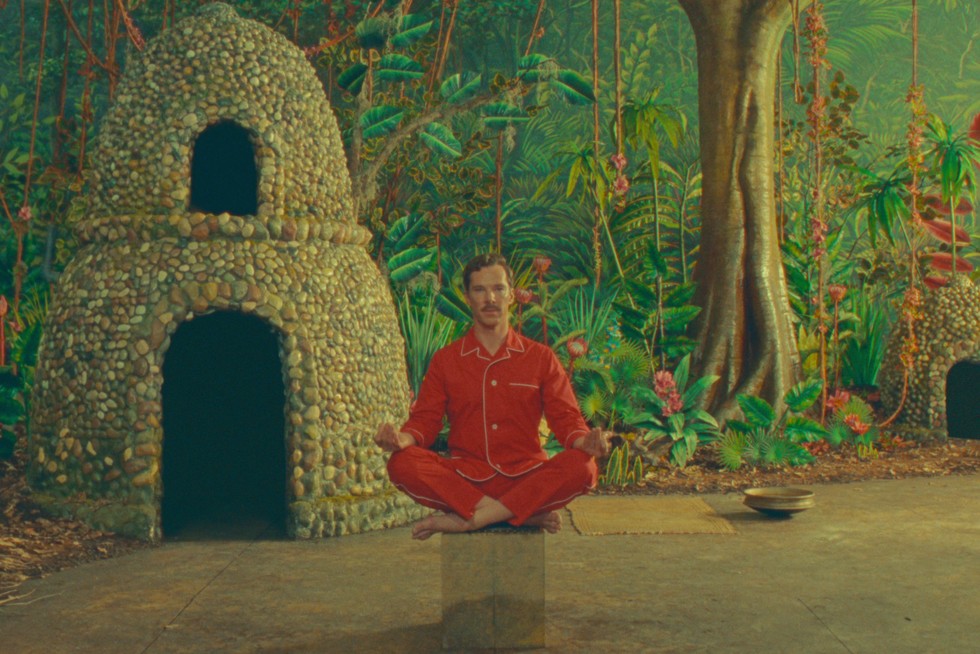 Technically, these are four films under one entry, but Anderson's shorts are best viewed as companion pieces that work together to develop his aesthetic. His four experiments in whimsy are a triumph of joyous storytelling. It would certainly win the prize for the most faithful adaptation–almost every word of Dahl's text is recited verbatim in a whirlwind narration. They take a sprinting start, propelled by Anderson's manic energy and visual inventiveness. They have some of the most perfect illustrations of the mechanisms of stylistic illusion and art that Anderson himself favours. Each of the four films is distinct in their tone and content. Henry Sugar looks for understanding and improvement as his journey into trickery draws him closer to the truth. The Swan is minimal and bleak. The Ratcatcher is Wes Anderson's tentative foray into horror in, essentially, a single, long and tense scene. Poison is brimming with tension and conflict. These are the cinematic versions of a bedtime story read aloud by a parent, with lovingly done voices.
How to Blow Up a Pipeline, dir. Daniel Goldhaber
Adapted from Andreas Malm's misleadingly titled book of the same name (the book includes no logistics about the how-tos of blowing up a pipeline), the nonfiction manifesto on ecology and climate activism is turned into a political thriller about the viability of infrastructural sabotage as a form of radical action. The film features a group of activists who take matters into their own hands and plan to blow up a Texas oil pipeline. For all of them, it is an act of self-defence and survival in the face of the despair and suffering caused by climate change and late-stage capitalism. The film's narrative is structured non-linearly, cutting backwards and forwards between their lives, the process of recruitment, the nuts and bolts of building explosives from scratch, and planning their direct action with minimal collateral damage. It's an intensely cathartic film for those utterly disillusioned by the apathy displayed by political establishments regarding an issue of clearly apocalyptic proportions.
Are You There God? It's me, Margaret, dir. Kelly Fremon Craig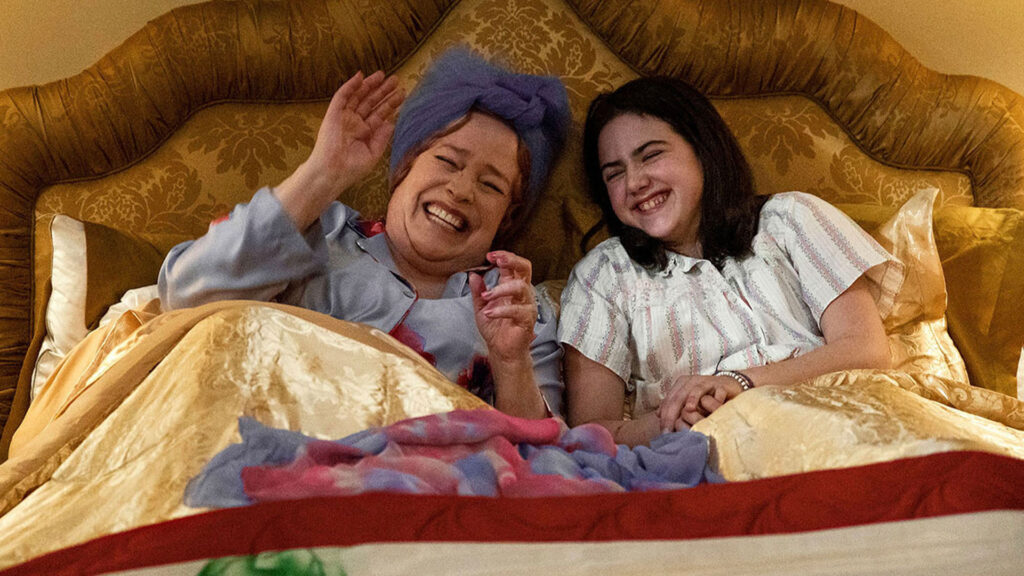 The 2023 adaptation of Judy Blume's beloved book is an instant classic of the coming-of-age genre and an emotionally charged film about a child navigating religion, friendships and adolescence. Blume's book is warm and loving, and the film is equally full of heart and compassion for teenage girls, their lives, hopes, their families and fears. At the same time, it gives space to the older members of the family. Margaret's parents really step up and rise above their own experiences. They try to guide their child away from the pits and ruts they fell into. Take religion, for example. Margaret, unfortunately, has more religious neuroses than most: born to a Jewish father and a Christian mother and raised secular by her parents to spare her their religious trauma. But not being given answers only puts the responsibility on her to seek them out. Pitch perfect and faithful, it's the kind of film that reminds you that while you have grown, you are still all your past selves. You haven't really left your preteen anxieties and awkwardness behind. The film understands that the little despairs of adolescence can seem like an eternity. At the same time, when we look back, we find it was both overblown and more crushing than anything you could have imagined. Horrifying experiences of teenage years (buying bras and getting periods!) eventually morph into just another everyday struggle.
Related to Coming-of-Age Books: 5 Feel-Good Books to Read Like Heartstopper
Fellow Travelers, Ron Nyswaner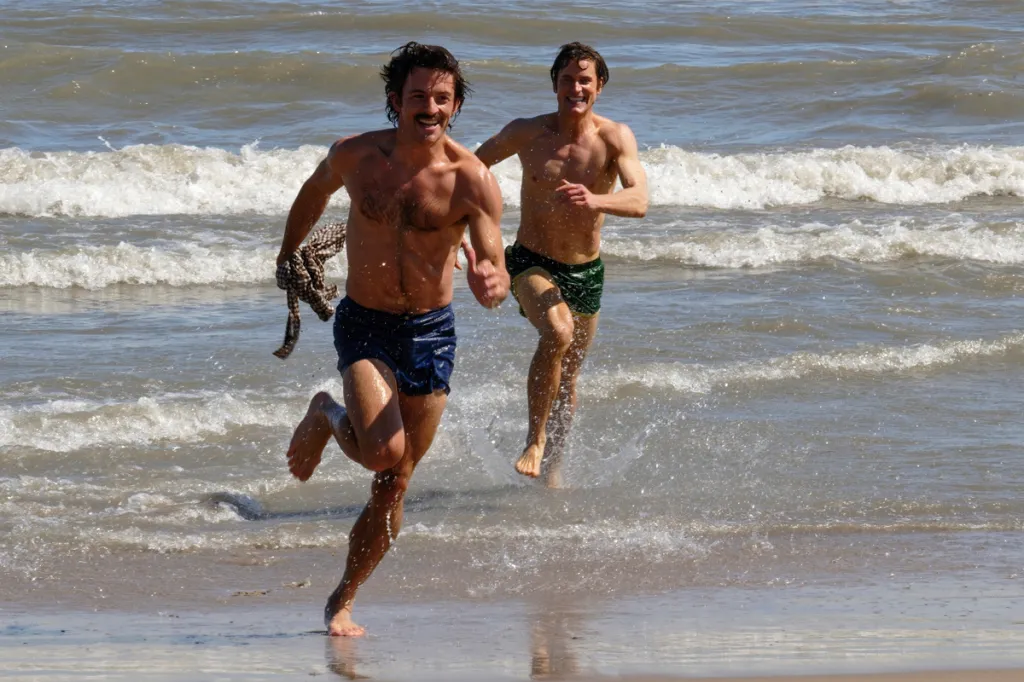 Fellow Travelers is a gay love story and political drama based on the 2007 novel of the same name by Thomas Mallon. The decades-long romance unfolds against the unfortunate backdrop of McCarthy-era Washington, as the two leads face the worst years endured by the queer community of the United States of America: from the 1950s when Joseph McCarthy brands homosexuals, communists and other such "subversives" a threat to the American way of life, spanning the drug-fuelled hedonistic years of the 1960s and 70s finally giving way to the Reagan era AIDS epidemic of the 80s. Fellow Travelers (the miniseries) is well-crafted and well-acted. Matt Bomer and Jonathan Bailey have instant, captivating chemistry. The scale of the narrative is both epic and intimate. The political and historical tensions mutate into an existential threat for Hawkins Fuller and Timothy Laughlin. What would an open expression of love look like in such a world? Does persecution dilute affection? Its episodes are measured in moments that are quiet and camp, sensual and tender. Showtime's ongoing series premiered on October 27, 2023.
Nimona, dir.  Nick Bruno and Troy Quane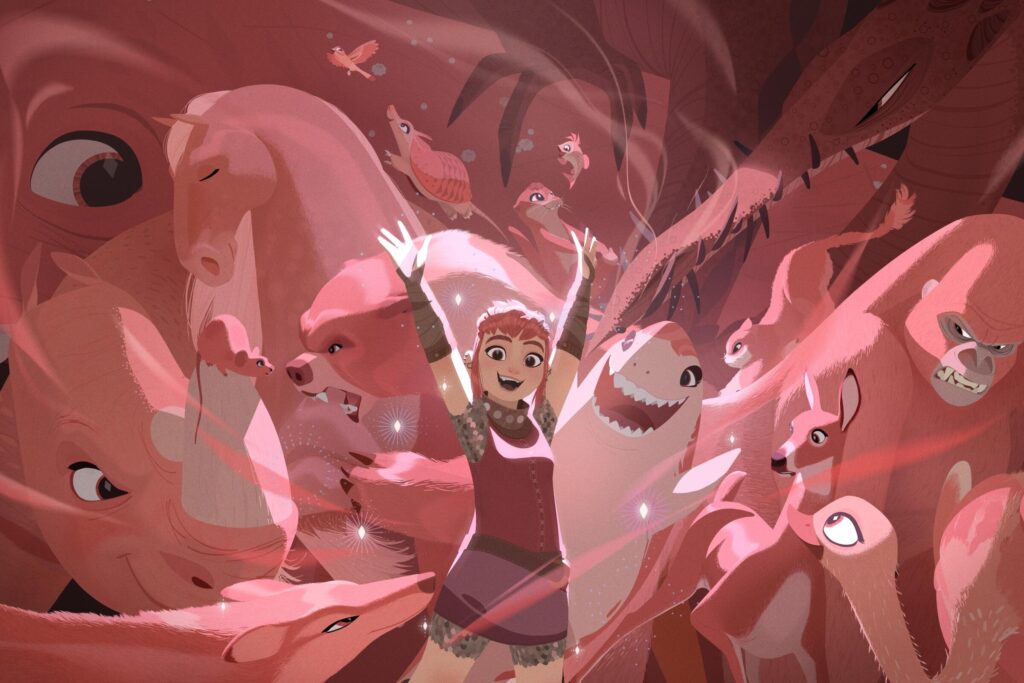 Adapted from N.D. Stevenson's indie graphic novel had its origins on Tumblr, Nimona is an animated film about the notoriously villainous knight, Ballister Boldheart and his new, grudgingly-accepted sidekick, Nimona, who wants to help him wreak havoc more efficiently. Nimona is a trans-coded, shape-shifting punk who steals the show and runs away with it. The film is brimming with grippingly animated shape-shifting, a nuanced romantic arc and flagrant queerness. 2023 has been a great year for animated punks who take on the establishment. Nimona is a mainstream film about shaking off institutional prejudice and propaganda and working towards self-acceptance. The central romance between two men is the driving force behind much of the plot. In a land where children grow up believing they will become heroes by slaughtering "monsters," Nimona refuses to conform and rebels against any and all structures that demand you define yourself with a readymade label–a recurring dialogue in the film has people asking Nimona, "What are you?". To this, she has only one reply, "I'm Nimona." The voice acting from Riz Ahmed and Chloë Grace Moretz is incredibly dynamic and fits perfectly with the visual flare of the film's animation. In short, Nimona is a sweet and subversive film yet never preachy.
BlackBerry, dir. Matt Johnson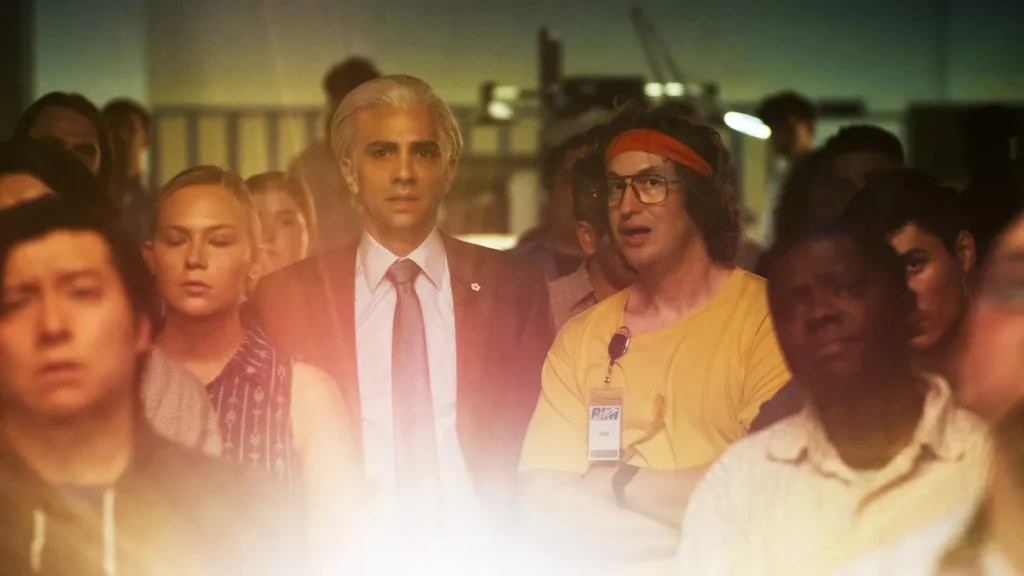 Another win for the nonfiction adaptations of 2023, Matt Johnson's BlackBerry is adapted from Losing the Signal: The Untold Story Behind the Extraordinary Rise and Spectacular Fall of BlackBerry by Jacquie McNish and Sean Silcoff. Every tech film has its archetypal main characters who are each other's polar opposites: the PR huckster and the nerdy engineer. In BlackBerry, the former is the businessman Jim Balsillie, who attaches himself as a man-sized parasite to Mike Lazaridis–the socially awkward engineer who makes the actual technological developments. Of course, the nerd is now on a path to corruption. These are the safe, satisfying narrative beats of any tech film. But BlackBerry has the advantage of hindsight granted by the titular company's dissolution. History has already marked the BlackBerry company as a failure and betrayal of moral integrity. The film is utterly unromantic about any underdog ideals. It is primarily about corruption and compromise. There are no visionary geniuses but rather a pack of money-hungry hounds looking for a piece of the pie. The film's central thesis is laid out in a visual switch from the colourful garage workspace/hangout spots to the sterile corporate offices it evolved into, bringing with it all sorts of promises of violation of ethical codes and labour laws. At times almost resembling a parody of The Social Network, BlackBerry is a film about the slow-acting corporate poison and the stark display of moral cowardice it engenders.
Bodies, Paul Tomalin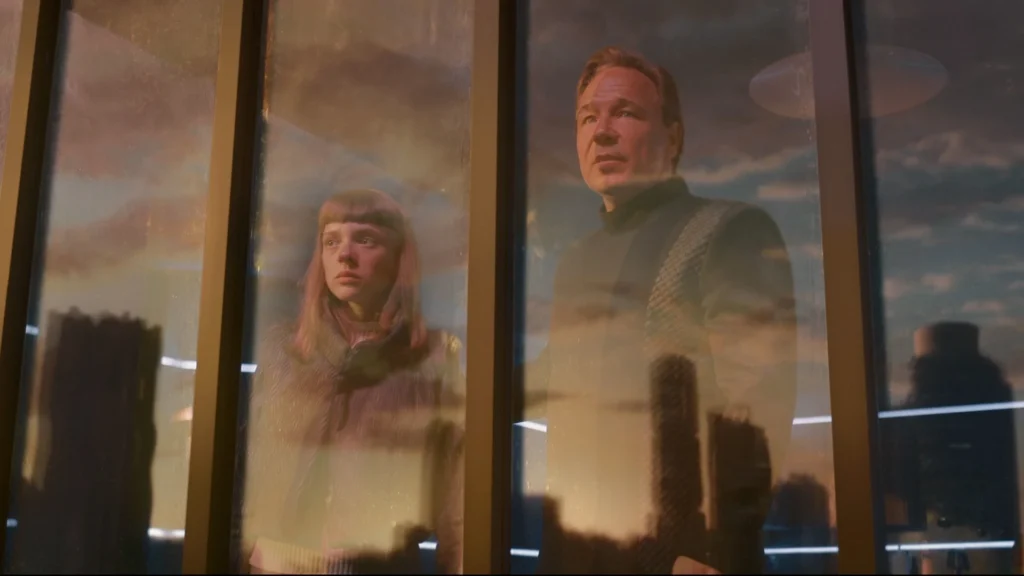 Adapted from Si Spencer's era-jumping graphic novel murder mystery, Bodies follows four London detectives in different time periods. Each discovers the body of a tattooed, one-eyed man found naked in Whitechapel (yes, the famous hunting grounds of Saucy Jack, aka Jack the Ripper). All four detectives are specifically outsiders from mainstream society–a gay man in turn-of-century England, a Jew during World War II, a Muslim in the 2020s, and a disabled woman in the future. But, as both the graphic novel series and its Netflix adaptation hammer down repeatedly, they are all British. They are (each of them) like strands of code in a nation's DNA. The graphic novel used different art styles to signify each timeline. The show instead uses different colour palettes. It uses the split screen technique to great success in recreating the graphic novel's panel format. The series is primarily character-driven, although it does have a cryptic and somewhat confounding plot. All four protagonists have compelling and self-contained stories, which give their small moments of cross-temporal recognition and assistance a greater poignancy. The parts are clearly greater than their sum. A less complicated show in the same vein as Dark and 1899, Bodies has a refreshingly new idea of time travel. It juggles these multiple storylines and yet never once goes awry. The plotlines are handled with competence as they hurtle towards a solid conclusion. Bodies mixes genres with aplomb: crime, period drama, sci-fi, police procedural. More than that, Bodies is about the soul of London, forever unchanging, so much so that the chronology of its crimes starts repeating.