Here are our top 13 new books for September 2023! Learn all about these new releases before you hit the bookstores this month.
2023 has been a great time for book lovers, and this month is no different. From literary fiction to young adult mysteries and moving memoirs, September has exciting new releases in store. Let's take a closer look at some of them!
1. The Fraud by Zadie Smith
Genre: Historical fiction
Pages: 464
Publisher: Penguin Press (September 5, 2023)
Set in 1873, England, The Fraud centers around William Ainsworth, a formerly famous novelist, and his housekeeper, Eliza Touchet. They are cousins by marriage. The story also follows Andrew Bogle, who grew up in the plantations of Jamaica and found himself in the middle of a notorious case of imposture – the Tichborne Trial. 
The trial beguiles Mrs Touchet and the rest of the country. Conflicted about the nature of truth in a world marked by hypocrisy, Andrew and her find it increasingly difficult to decide what – and who – is authentic. Based on actual events, this novel is an exceptional work that transcends the boundaries between truth and fiction. If you enjoy Smith's writing, do not sit this one out!
Zadie Smith is an English author and essayist. Her works have received widespread critical acclaim. Her debut novel, White Teeth (2020), was included by Time magazine in its list of 100 best English language novels from 1932 to 2005. Since 2010, Smith has been a tenured faculty member at New York University's Creative Writing department.
2. The Vaster Wilds by Lauren Groff
Genre: Historical fiction
Pages: 272
Publisher: Riverhead Books (September 12, 2023)
This stunning work of historical fiction follows a servant girl as she escapes a colonial settlement and embarks on an adventure. Groff's novel is at once a thrilling adventure story and a fable about carving a new way of life. It narrates the story of America at a turning point in history and asks how, and if, we can adapt in a world succumbing to colonialism to save ourselves.
Lauren Groff is an American writer. Her published works include four novels and two short story collections. Two of her works – Florida (2018) and Matrix (2021) – were shortlisted for the National Book Award for Fiction. Groff's stories have been published in leading magazines like The Atlantic and The New Yorker.
3. Land of Milk and Honey by C Pam Zhang
Genre: Science fiction / Dystopia
Pages: 240
Publisher: Riverhead Books (26 September, 2023)
As smog spreads, food crops start disappearing mysteriously. Around the same time, a chef takes up a job in a mountaintop colony to revive her career. There, she finds the sky is clear and crops abundant. Her new employer had designed a lush new life for the global elite, awakening in her a renewed sense of joy. 
However, when the chef discovers the hidden mysteries of the colony, she is forced to confront the ethical dilemma of seeking pleasure in a changing world in this novel.
C Pam Zhang is a Chinese-American writer. She attended the Iowa Writer's Workshop in 2017 as the Truman Capote Fellow. How Much of These Hills is Gold (2020), her debut novel, was longlisted for the Booker Prize and a finalist for a Lambda Literary Award. Land of Milk and Honey is her second novel.
4. The Fragile Threads of Power by V.E. Schwab
Genre: High fantasy / Science fiction
Pages: 656
Publisher: Tor Books (September 26, 2023)
In this novel, London connects four worlds, each with its unique magical powers. As the magic grew, the worlds sealed the portals between them in order to protect their own. Three magicians can still access the portals – Kell Maresh of Red London, Delilah Bard of Grey London, and Holland Vosijk of White London. 
Things start getting heated when a new magician replaces Holland to take over White London, and a rebellion breaks out in Red London. Only one girl has the ability to alter the fate of the four worlds forever. It is up to Tea if she brings the worlds together or unravels them all.
Victoria Elizabeth Schwab is a New York Times bestselling author working primarily in fantasy and science fiction. Her novels include Vicious (2013), the Shades of Magic series (2015-7), The Invisible Life of Addie LaRue (2020), and Gallant (2022). She has been nominated for the Goodreads Choice Awards several times, winning in 2018 and 2022.
5. Rouge by Mona Awad
Genre: Horror / Thriller
Pages: 384
Publisher: S&S/Marysue Rucci Books (September 12, 2023)
Belle has been obsessed with skincare and beauty videos for as long as she can recall. After her mother's mysterious demise, she returns to South California, where she meets a strange woman in red at the funeral service. The woman shares a clue about what happened to her mother, followed by a cryptic spa video. At the same spa (which is suspiciously cultish), Belle discovers a terrifying secret behind her and her mother's fascination with the mirror and the demons lurking on the other side of the glass.
Mona Awad is a Canadian author best known for Bunny (2019), a satirical horror novel optioned for a film adaptation earlier this year. Her other novels include 13 Ways of Looking at a Fat Girl (2016) and All's Well (2021). Her 2019 and 2021 releases were finalists for the Goodreads Choice Awards for Best Horror.
6. Holly by Stephen King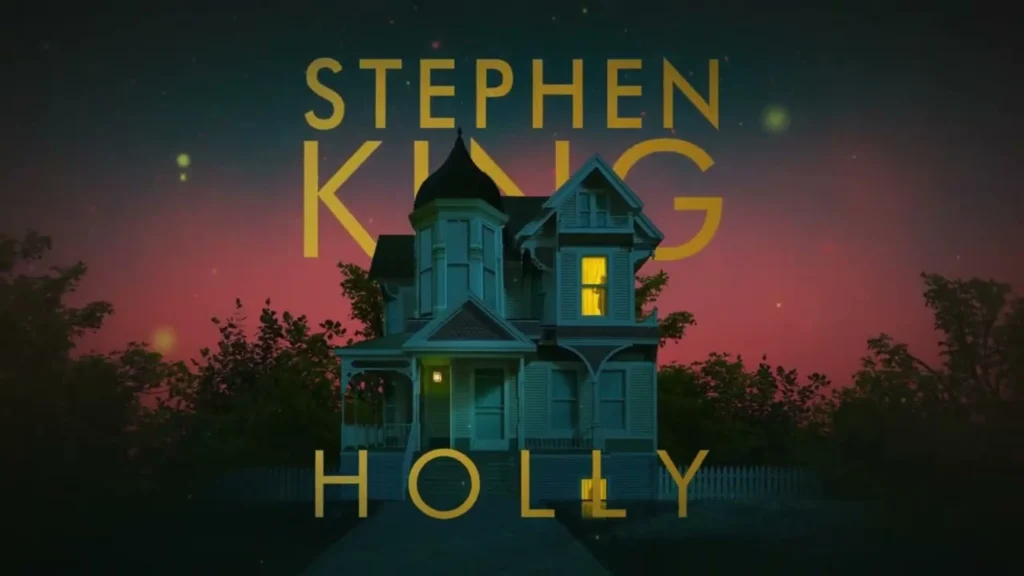 Genre: Horror / Mystery
Pages: 449
Publisher: Scribner (September 5, 2023)
Holly Gibney has made minor appearances assisting detectives in King's novels Mr. Mercedes and The Outsider. This time, she is on her own and up against a pair of ruthless enemies. 
Holly is hired by Penny Dahl to investigate her daughter's disappearance. Dahls' neighbours, professors Rodney and Emily Harris, are the unlikely suspects. They are mild-mannered but harbour a sinister secret. Holly must give the case her all if she wants to outwit the professors. Pick up this fast-paced, twisty thriller to find out if she can!
Stephen King is an American author often referred to as the 'King of Horror'. He has written over 60 novels, 20 novellas, and 120 short stories. Besides horror, he has extensively published in thriller, crime, science fiction, and fantasy genres. His works have been adapted for films, theatre, and TV. The long list of awards received by King include multiple Bram Stoker Awards and the World Fantasy Award for Life Achievement (2004). He was inducted into Fangoria's Hall of Fame in 1994.
Also Read: The Best Works of Stephen King and Here's Why You Should Read Them
7. Mother-Daughter Murder Night by Nina Simon
Genre: Thriller
Pages: 368
Publisher: William Morrow (September 5, 2023)
Described as "Gilmore Girls, but with murder", this book follows a trio of amateur detectives. Lana Rubicon, a renowned businesswoman, gets stuck in a cut-off coastal town with her daughter Beth and granddaughter Jack while battling cancer. 
One day, while kayaking, Jack discovers a dead body, which makes her a prime suspect in the murder investigation. Lana finds the perfect opportunity to prove to her family – and herself – that she can still achieve a thing or two. With the help of Beth and Jack, she uncovers lies, vendettas, family secrets, and land disputes plaguing the close-knit community. However, when their adventures enter a dangerous territory, the Rubicon women must learn to do the one thing they have always avoided – depend on each other.
Nina Simon is an American writer, educator, and exhibition curator. She was the executive director of the Santa Cruz Museum of Art and History from 2012 to 2019. Simon ran the Museum 2.0 blog for 13 years and penned two nonfiction books – The Participatory Museum (2010) and The Art of Relevance (2016). This whodunnit marks her foray into fiction. 
8. Murder in the Family by Cara Hunter
Genre: Thriller
Pages: 480
Publisher: William Morrow Paperbacks (September 19, 2023)
In December 2003, Luke Ryder, stepfather of famous filmmaker Guy Howard (then aged 10), was found dead in the garden of his family home. Guy's mother and half-sisters were in the house during the murder, but they did not see or hear anything out of the ordinary. 
The case was never solved, that is, until it became a subject for the Netflix series Infamous. Determined to crack the cold case, the production team examines testimonies, interviews witnesses, and reviews the evidence. Finally, the truth will come out – on camera – but is the family ready to face it?
Cara Hunt is a Sunday Times bestselling mystery and crime author best known for the DI Adam Fowley series spanning six books between 2018-2022. Fremantle has acquired the TV rights for the series. Cara lives in Oxford, where most of her stories are based. 
9. Evil Eye by Etaf Rum
Genre: Literary fiction
Pages: 352
Publisher: Harpers (September 5, 2023)
In this novel, Yara was raised in a conservative Palestinian family residing in Brooklyn. She thought she would finally feel free when she married a successful entrepreneur and moved to the suburbs. Yar started a job at the local college, took care of the house, and raised her school-age daughters. She knew her life was more rewarding than her mother's, yet it did not feel like enough. 
Soon, things start falling out of place. Yara is put on probation at work after retaliating to a colleague's racist remarks. Her mother blames her troubles on an old family curse. While Yara is not superstitious, she cannot shake off the thought of making the same mistakes as her mother. The only way to save herself and her daughters is to face the fact that her childhood, something she thought was forever behind her, had implications that would govern her life forever. 
Etaf Rum is a Palestinian-American author. Her debut novel, A Woman is No Man (2019), was a New York Times bestseller and the finalist for the Goodreads Choice Awards in the Best Fiction and Best Debut categories. Evil Eye is her second novel.
10. Family Meal by Bryan Washington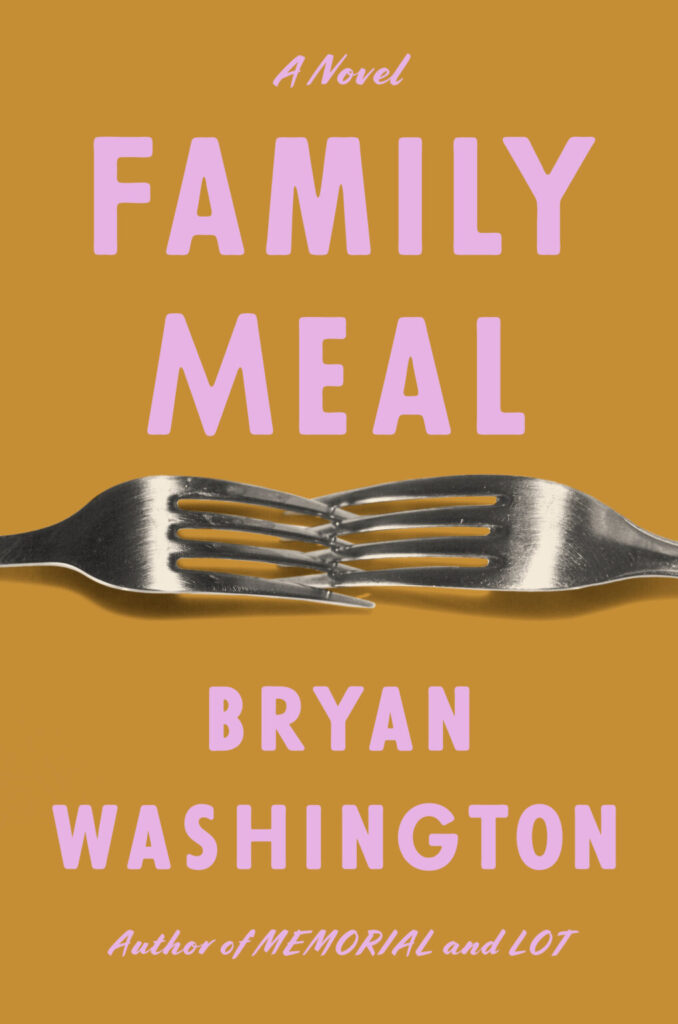 Genre: Literary fiction / Queer
Pages: 320
Publisher: Riverhead Books (September 10, 2023)
Like Washington's other works, Family Meal explores the nuances of queer experiences. It revolves around two men, once best friends, whose paths cross again after a tragic loss. 
Haunted by the ghost of his recently deceased partner, Cam moves back to his hometown to start afresh. There, he bumps into TJ, a former friend. TJ is unsure what to make of Cam, who seems like a completely changed man from when they were last together. On the other hand, Cam is on a self-destructive spree. Can they look past all things said and unsaid and save each other? Can they find a way to be happy together again, or maybe for the first time?
Bryan Washington has authored Lot (2019), a short story collection, and Memorial (2020), a novel being adapted for TV by A24. His works have won the Dylan Thomas Prize (2020) and the Lambda Literary Award for Gay Fiction (2020) and were longlisted for the Aspen Literary Prize and the Andrew Carnegie Medal for Excellence in Fiction. Washington is a lecturer of English at Rice University, where he also serves as a Scholar in Residence for Racial Justice. He writes regularly for The New Yorker. 
11. The Death I Gave Him by Em X. Liu
Genre: Mystery / Science fiction
Pages: 432
Publisher: Solaris (September 12, 2023)
The Death I Gave Him is a modern retelling of Hamlet in the form of a queer, locked-room mystery. Hayden Lichfield's world gets upside down when he finds his father dead and all camera logs of their lab erased. He was certain that the killer was after the Sisyphus formula they were working on; after all, it could one day reverse death! Hayden decides to steal the research, hoping to trick the killer into the open. He finds a recording from his father accompanied by a dying wish – "Avenge me". 
With the lab on lockdown, Hayden is trapped with four people – his uncle, a lab technician, a research intern, and the lab's head of security. He knows the killer is one of them, which is why he can trust nobody but the lab's resident AI system, Horatio. Together, they must uncover the building's secrets, unravel the web of lies Hayden's father created, and seek revenge. 
Em X. Liu is a biochemistry graduate based out of Canada. They are equally interested in Shakespeare and artificial intelligence. The Death I Gave Him is Em's first novel.
12. Sure, I'll Join Your Cult by Maria Bamford
Genre: Memoir / Humour
Pages: 287
Publisher: Gallery Books (September 5, 2023)
Bamford's memoir is a hilarious, honest account of show business, mental health, and the comfort of adhering to rigid belief systems. She gets up, close, and personal in the book, delving into her struggles with eating disorders, hypomanic episodes, psychiatric institutionalization, and navigating a career in performing arts. 
Written in Bamford's inimitable voice, this book inspects what it means to persevere as a member of society (even when you are not great at it) and explores how she makes the most of isolating experiences through humor. 
Maria Bamford is an American actress and stand-up comedian. Her work is characterized by self-deprecating humor and difficult subjects like mental illness and family dysfunction. Bamford plays the lead role in the Netflix series Lady Dynamite (2016) based on her life. She is also the narrator of the audiobook for Sure, I'll Join Your Cult.
13. While You Were Out: An Intimate Family Portrait of Mental Illness in an Era of Silence by Meg Kissinger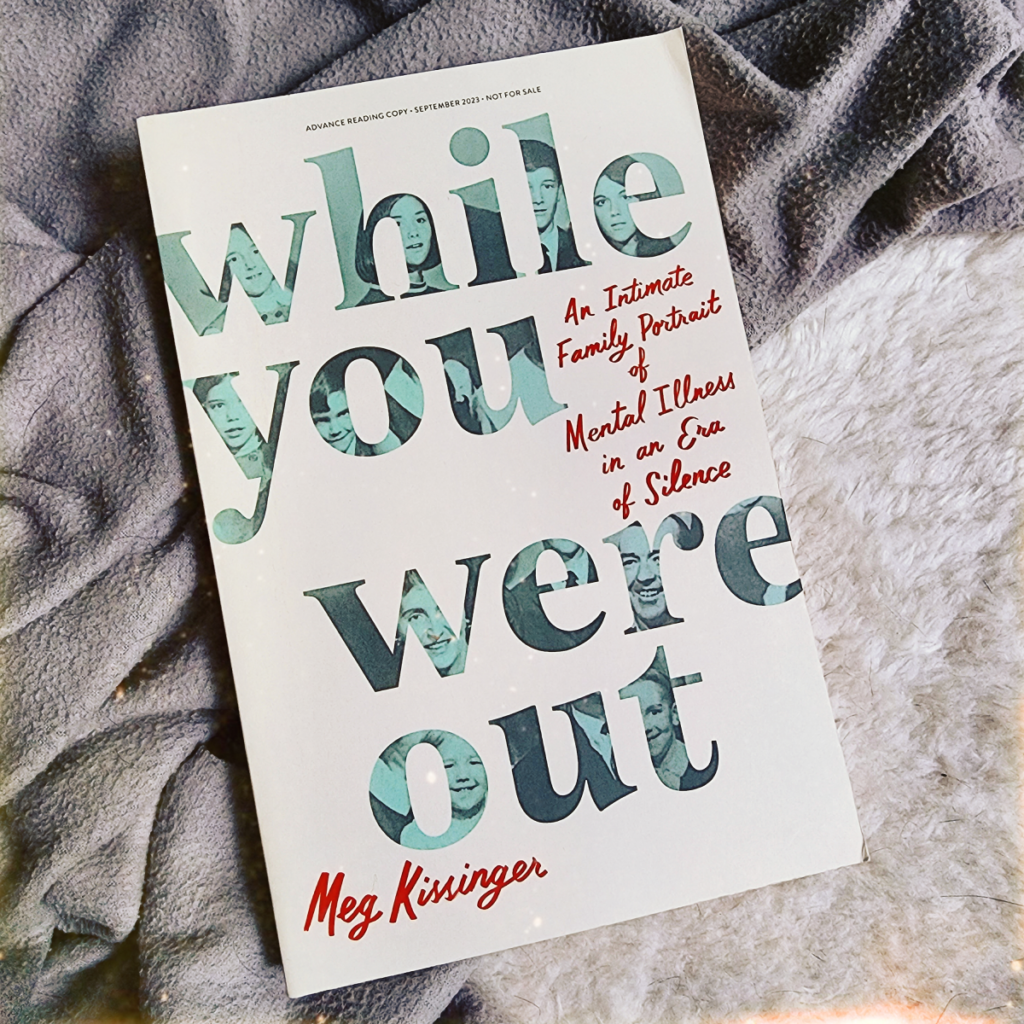 Genre: Memoir / Mental health
Pages: 320
Publisher: Celadon Books (September 5, 2023)
In this book, Kissinger narrates the experiences of a family grappling with mental illness, the systems that failed them, and the love and hope sustaining them. She grew up in the 1960s with seven siblings and two loving parents. At least, that is how it seemed to outsiders. 
Behind closed doors, the family was made up of a manic father with violent tendencies, a medicated mother often hospitalized for anxiety and depression, and children – two of whom will die by suicide – in the throes of mood disorders. Through all of it, the Kissingers followed only one rule: never talk about it. 
Kissinger's intimate memoir intertwines childhood trauma, investigative reporting about the country's mental healthcare system and policies, and the hope offered by newer treatments. Above all, it is a powerful testament to a family's love and resilience in the face of tragedy.
Meg Kissinger is an American investigative journalist. She and her colleague Susanne Rust were finalists for the 2009 Pulitzer Prize for Investigative Reporting for their Chemical Fallout series. Kissinger has also written extensively on mental health and wellness. 
Thanks to the diverse new releases, you are bound to find your literary match in September, no matter your taste in books. All that is left now is to pre-order your favorite picks from our list. So, what are you waiting for? On your marks, get, set, read!