Enid Blyton (1897-1968) was an English children's author known for her prolific writing and imaginative stories that captured the hearts of young readers around the world, selling over 6 million copies worldwide. Her first book was a collection of poems known as Child Whispers (1922), and its popularity is the founding stone of all the acclaim she would garner in her lifetime and beyond. Blyton's writing style was characterized by simple language, engaging plots, and memorable characters that continue to enthrall generations of readers. She is also one of the most translated authors in world literature.
Despite the enduring popularity of her books, Blyton's writing has also been the subject of criticism over the years, with some accusing her of promoting outdated ideas and repetitive plots. In fact, for a period of twenty years (the 1930s to 1950s), the BBC operated a de factor fan on dramatizing any of Blyton's works for the radio. Some of the topics she dealt with and the language used in her stories have also been criticized as racist and xenophobic. Blyton's defenders, however, argue that her work should be seen in the context of the time in which it was written and that her stories continue to inspire and delight readers of all ages.
Enid Blyton remains one of the most beloved and influential children's authors of the 20th century. Her legacy lives on in the countless young readers who continue to discover her books and be transported to magical worlds of adventure and imagination.
The Best Works of Enid Blyton
Blyton began writing in the 1920s when children's literature was dominated by moralistic tales and didactic stories. She sought to challenge this trend by creating stories that were both entertaining and inspiring and encouraged children to use their imagination and explore the world around them. Her books often featured daring adventures, mysterious puzzles, and close-knit groups of friends who worked together to solve problems and overcome obstacles, one that mostly had a moral bent. It must also be noted that her writing offers its readers a way to escape the grueling reality of everyday life, which may be an effort to get relief from post-war austerity. Growing up, you must have come across Enid Blyton's works in a school or public libraries or in the form of birthday gifts. Her writing rings with the nostalgia of childhood. Let's look at some of Enid Blyton's best works below:
The Famous Five is a series of 21 children's adventure novels written by Enid Blyton, first published between 1942 and 1963. The series follows the adventures of four children – Julian, Dick, Anne, and Georgina (a tomboyish girl who prefers being called George) – and their dog, a large brown mongrel named Timmy. In the course of their adventures, we are introduced to several other characters, such as Alf, a fisherboy who agrees to take care of Timmy while the children go for an adventure; the housekeeper Joanna; Aunt Fanny, who is George's mother, etc. The children's protagonists frequently find themselves embroiled in exciting mysteries and adventures, often involving smugglers, spies, and secret passages. The stories are set in various locations throughout England, including the countryside, the coast, and even an island. 
Throughout the series, the children develop a strong sense of independence, resourcefulness, and teamwork, with each character demonstrating a unique strength and weakness. The themes may get repetitive if you decide to binge-read the series, but they are full of childhood nostalgia and follow a floating timeline. The first book, Five on a Treasure Island, was made into a movie in 1957. Later, a television show, The Famous Five, also aired between 1978 and 1979 before it garnered more reproductions in theatre, television, comics and gamebooks.
The Secret Seven is another of Enid Blyton's beloved children's book series that follows the stories of seven fictional child detectives. It features Peter, the leader of the group, his sister Janet, and their friends Jack, Colin, George, Pam, and Barbara. Like the Famous Five series, this series also features Peter's dog, Scamper. Together, they form the Secret Seven society, and most of their adventures take place in the course of their day-to-day lives at day school. The first book in this series, The Secret Seven, was published in 1949.  
---
---
Blyton's masterful storytelling and intricate plots make the Secret Seven series timeless classic, captivating young readers and adults alike with its blend of mystery, adventure, and camaraderie. Throughout the series, the Secret Seven embarks on thrilling quests, solves baffling puzzles, and uncovers hidden secrets in their community. The group employs wit, resourcefulness, and courage to crack each case, often finding themselves in dangerous and precarious situations.
Malory Towers, a series of six novels, chronicle the adventures of a young girl named Darrell Rivers and her classmates at a fictional boarding school called Malory Towers. The series is set in post-war England and was first published in the 1940s, with subsequent reprints and adaptations. Each book in the series follows the ups and downs of life at Malory Towers, taking place during every term Darrell spends there. She and her friends navigate the challenges of growing up, forging lasting friendships, and overcoming personal obstacles along the way. Further, they encounter a wide variety of characters, from strict headmistresses to mischievous classmates, and learn valuable lessons about responsibility, loyalty, and resilience. Pamela Cox added six other books to the series in the 2000s. These books focus on the life of Darrell's sister, Felicity, and her friends as they join the institution.
Despite being aimed primarily at a younger audience, the Malory Towers series has remained popular among readers of all ages for its engaging characters, lively storytelling, and timeless themes of friendship and self-discovery. With its charming blend of adventure and humor, the series continues to shed light on the boarding school system to a new generation of young readers to this day.
Why Should You Read the Works of Enid Blyton?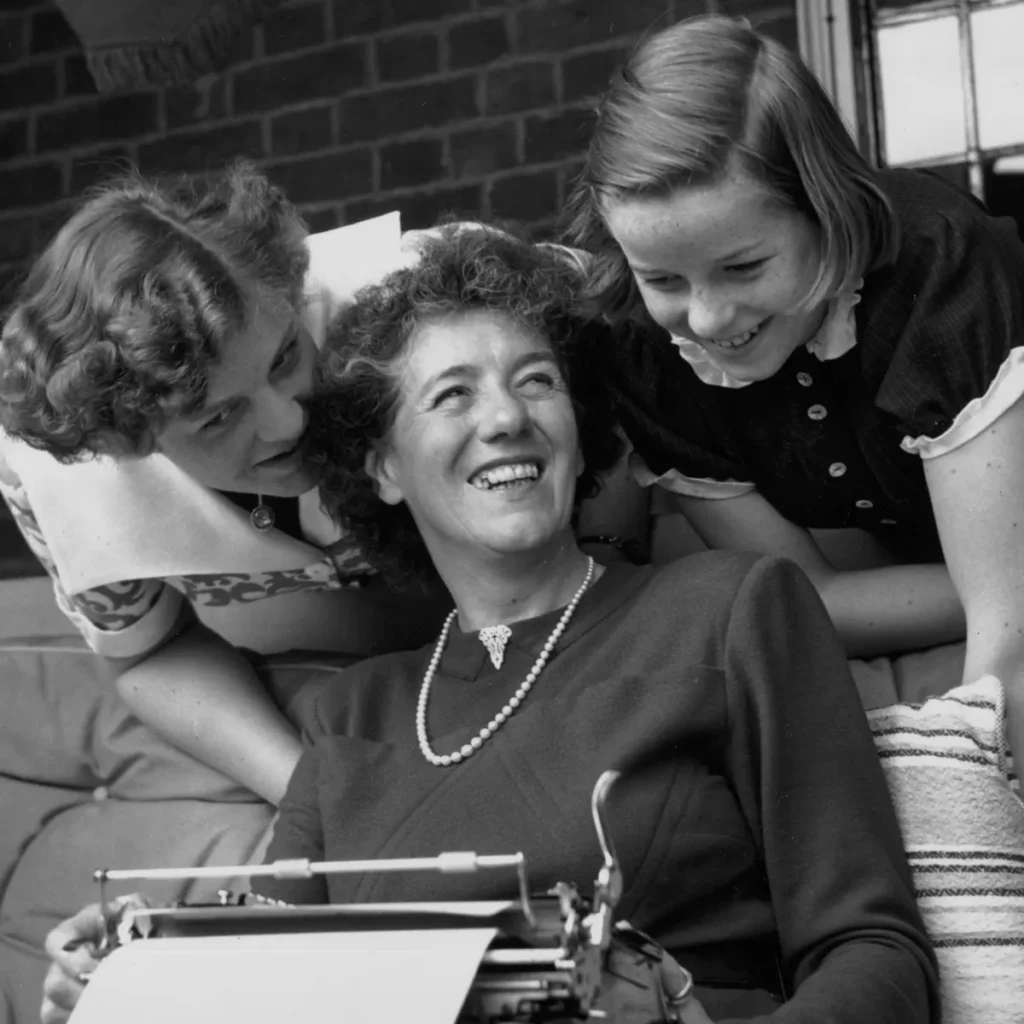 Enid Blyton's works are potent with imagination. When you read any of Blyton's books, the simple but rich descriptions help you paint a picture in your head. If a child is reading Blyton, they learn to become more imaginative, helping them enjoy the books thoroughly. This quality of Enid Blyton's works also makes them memorable. I have ever so often snuck into the school library to read The Famous Five, and I still remember the vivid descriptions of the feast – jars of lemonade, crusty bread, cakes, and buns, bacon, eggs, etc. – that started their adventures. In fact, none of the children in Blyton's stories ever miss out on the veggies or regular meal timings. The stories make the act of eating a fun social exercise, which can help children (if you are reading out the books to them) take an active interest in reading.
---
---
Blyton's stories also center on the nature of humans and their natural tendency to live harmoniously around each other. They stress the importance of human connections, especially friendships, and how these relations sustain us. Besides, Enid Blyton's books make for the best children's stories because of their tendency to preach the idea of thinking about solving a problem logically in times of need. They also serve as the perfect gateway for adventure on a hot, dull summer day! I personally believe if you are losing touch with the act of reading and are considering re-reading your favorites, pick up any Enid Blyton copy and plunge into the page-turning thrill of storytelling!