The 10 Best Batman Comics From the Last Decade: As a pop culture collective, we all know the two pillars of the superhero community: Superman and Batman. Batman is Bruce Wayne, a billionaire orphan who lost his parents to a mugging when they were murdered by a thug named Joe Chill while he was trying to rob them. The trauma of that event and the infestation of crime in his city of Gotham inspired him to become a symbol that every criminal would fear. After years of training with the best martial artists and criminal minds, he returns to his city and becomes the city's watchful protector and the scourge of all criminals, the Dark Knight.
There is an open secret in the comic book industry: the entire industry hinges on the sale of Batman comics. Batman should always be the top-selling comic every week for the comic book industry to sustain itself. As a result, Batman is the cash cow that DC Comics has been milking to an unhealthy degree. So for any newcomer to comic books, the number of Batman comics available for perusal is overwhelming. This list is this writer's perspective of the top 10 Batman comics of the last decade that one should read to get a wonderful intermixing of story and art, that is, the enjoyment of reading a medium of literature with a popular icon.
This list will not contain the usual suspects because this writer already knows the greatness of those usual suspects. "The Dark Knight Returns" by Frank Miller is one of the best comics ever written; "Batman: Year One" by the same author is the quintessential origin story of Batman; and "Batman: The Long Halloween" is one of the best detective stories or cases of Batman, which has also inspired the best Batman movies, be it The Dark Knight (2008) or The Batman (2022). Now that these are out of the way, here are the top 10 Batman stories of the last decade that one should read:
10. Batman – Creature of the Night | Writer – Kurt Busiek | Artist – John Paul Leon
Publication Date – November 2017 – November 2019
No. of Issues – 4
Type – Limited Series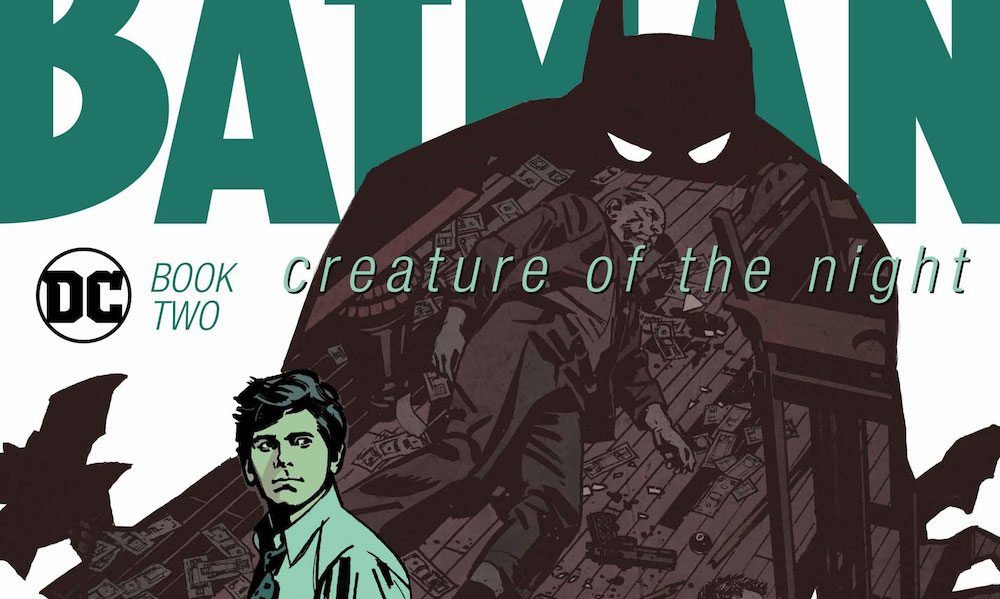 Kurt Busiek's 2005 miniseries Superman: Secret Identity imagines a world in which a boy is named Clark Kent by his parents as a joke because of Superman's secret identity in the comics. The comic books exist in his world, but there aren't any superhumans in that Universe until young Clark discovers that he has superhuman abilities, like Superman in the comics. Similarly, Batman: Creature of the Night takes the Batman template and re-imagines the story of a young boy with surface similarities to the comic book icon. The boy's name is Bruce Wainwright; his parents were murdered, and he has a family friend named Alfred. But unlike Superman: Secret Identity, Batman: Creature of the Night is a horror story. It tells the story of Bruce Wainwright and how he deals with his rage against the world at the loss of his parents and how that rage manifests into a bat creature. Unlike the DCU Batman, this is a spectral figure, not fully human, who only has one job: to balance the scales of the world according to the mentality of a 9-year-old traumatized Bruce. Within a span of four issues, this miniseries explores the different stages of obsession in young Bruce's life as a child's rage is let loose upon the world and has to be dealt with by a man who does not stay a child. 
Like in Secret Identity, there is an ambiguous explanation as to the existence of Batman in this Universe, but it deals more with Bruce's ability to deal with the obsessive-driven side of himself. For such a dark, somber story with horror tinges, Busiek enlists John Paul Leon, and Leon more than delivers. His work is scratchy, dark, filled with shadows, and always showcases the bleak nature the story shapes itself into. Working as a counter to the hopeful Superman: Secret Identity, Batman: Creature of the Night is Busiek's exploration of the other side of the coin, and it is a fascinating, if not entirely coherent, one.
Kurt Busiek is one of those comic book writers whose work has shaped the comic book industry through most of its decades. He is most famous for his "Avengers Assemble" run, as well as his limited series "Marvels" and his commentary on the superhero genre in "Astro City." John Paul Leon was an American comic book artist who rose to prominence due to his work on "Static" in the Milestone Imprint under DC Comics. He was also well known for his work on Wildstorm's "The Winter Men" and Marvel Comics' "Earth-X."
9. Batman – The Imposter | Writer – Mattson Tomlin | Artist – Andrea Sorrentino
Publication Date – October – December 2021
No. of Issues – 3
Type – Limited Series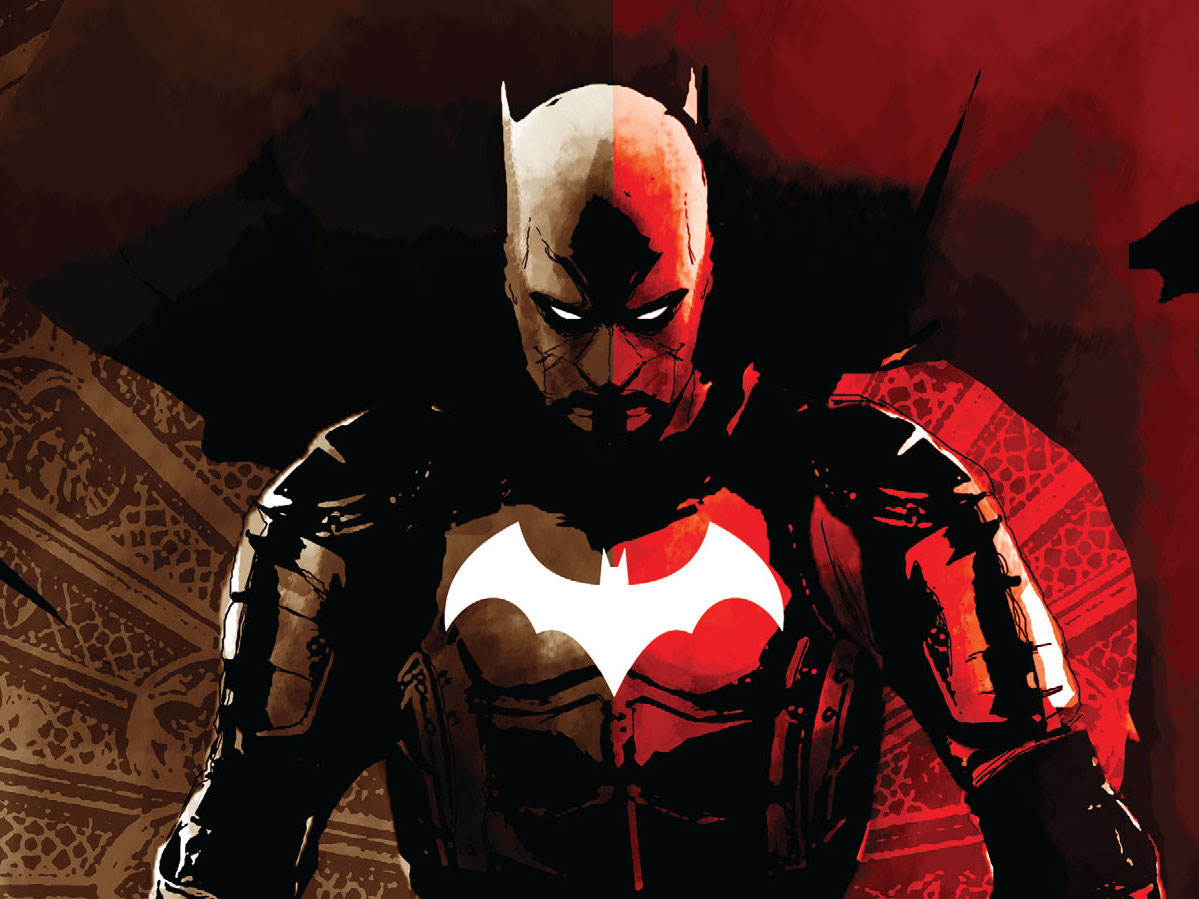 Screenwriter Mattson Tomlin takes some of his ideas for The Batman (2022) movie, reworks them, and expands on them in this 3-issue limited series. The result is a Batman story that is significantly darker and has a much more grounded take on the character. The opening few pages deal with Dr. Leslie Thompkins discovering a bleeding Batman lying on her carpet and finding out that he actually is billionaire Bruce Wayne. Most of the series deals with Wayne's reckoning with his methods' brutality, showcased in the fight sequences, picturized with a horrific yet beautifully trippy artistic sensibility by Andrea Sorrentino. The panel layouts become smaller or larger or are drawn like glass shards to capture the fractured mind of Bruce Wayne as he searches for the titular imposter who has been killing people wearing a Batman costume.
Mattson Tomlin has been the screenwriter of The Batman (2022) and Project Power (2020) and has also written and directed Mother/Android (2021) for Hulu. Andrea Sorrentino is an Italian comic book artist best known for his independent comic work with co-creator Jeff Lemire for "Gideon Falls" and others. He has also contributed to Marvel Comics' "Secret Empire" event and DC Comics.
---
---
8. Batman – The Knight | Writer – Chip Zdarsky | Artist – Carmine Di Giandomenico
Publication Date – January – October 2022
No. of Issues – 10
Type – Miniseries
The Batman origin story is one of the most overused origin stories, second only to Superman's, followed by Spider-Man's origin stories. It is tough to bring any uniqueness to the myths of Batman and Bruce Wayne. What writer Chip Zdarsky does here is draw our focus on Bruce Wayne's journey to self-discovery; while the inciting event is shown implicitly, it is never given the spotlight. This story truly focuses on the anger and frustration that Bruce Wayne has with the world and his drive to be better. Zdarsky takes him on a globetrotting journey where he meets criminals and detectives in Paris, trains with monks on mountains in North Korea, makes almost a shonen-like rival cum friend in Anton, also trains with marksmen in the FSB, and even crosses paths with the League of Assassins and their leader Ra's Al Ghul. All this while, we see Wayne growing in confidence and stature as we start making out the halo of the Batman we are used to reading in the comics, especially as he starts controlling his anger and molding it into skillful heroism while trying his hardest to keep his morality intact as he is tempted to criminality. Zdarsky is supported ably by Carmine DiGiandomenico, whose drawings evoke an almost sensual and graceful litheness in the action sequences, bringing out a balletic interplay that truly imparts to us why Batman is one of the best fighters in the DC universe.
Chip Zdarsky (original name Steve Murray) is both a writer and artist, having worked at New York Magazine and the Globe for the humorists' section. He co-created the independent comic Sex Criminals with writer Matt Fraction, sharing the artistic duties before jumping into Marvel Comics with his famous run on Howard the Duck and then moving on to Peter Parker: Spectacular Spider-Man and also penning the critically acclaimed Spider-Man Life Story. Carmine Di Giandomenico is an Italian comic book artist who rose to prominence in the American comic book market with his Spider-Man Noir series, written by David Hine. He has also illustrated issues of the mainline Flash comic for DC. He has also created storyboards for filmmakers Martin Scorsese and Tsui Hark.
7. Batman – One Dark Knight | Written and Drawn by Jock
Publication Date – February – September 2022
No. of Issues – 3
Type – Miniseries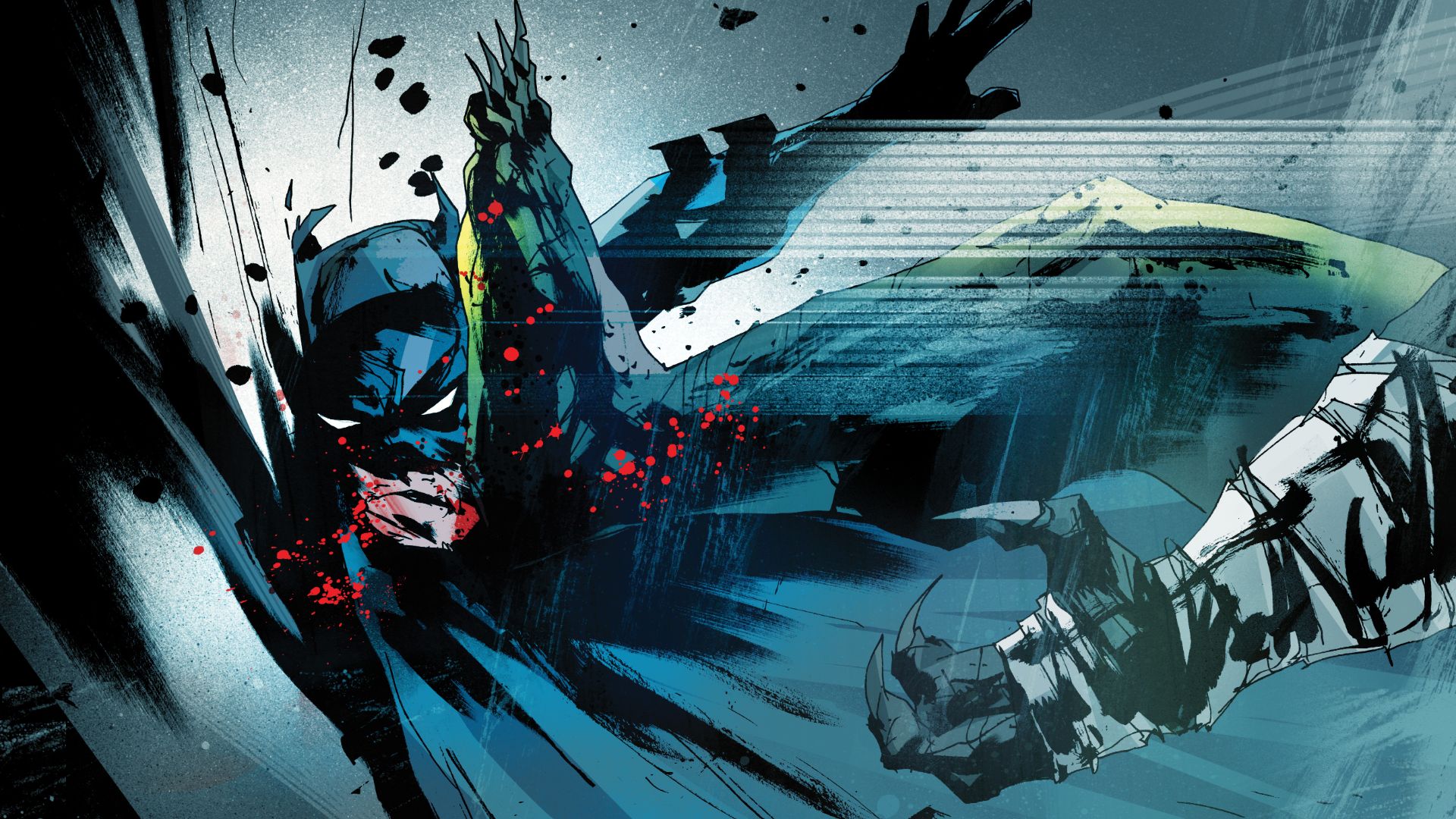 Sometimes, one wishes to read a simple, action-packed Batman story. Jock, in writing, penciling, and coloring this story, tackles a simple concept – the superpowered criminal known as EMP is to be transferred under a high-armed guard and cordoned from a temporary holding cell to Blackgate Penitentiary Prison. On this hot summer night, Batman will be surveying that prison transport. It is a routine job until EMP's electrical powers suddenly get out of control and knock out all the lights in Gotham City. Faced with no communications and backup, the city is shrouded in complete darkness, and Batman must drag EMP through the streets of Gotham City to Blackgate, facing all sorts of criminals along the way. It's a knock-down, bloody-knuckled, drag-out fight to the finish. Jock wastes no page in delivering a tight, concise story with escalating stakes.
Jock is the pen name of comic book artist Mark Simpson, who is well known for his work on the Vertigo series "The Losers" and the DC Comics series "Green Arrow Year One," both written by Andy Diggle. He is also well known for his collaborations with writer Scott Snyder in his 2011 Detective Comics story arc "The Black Mirror" and the independent horror comic "Wytches."
---
---
6. Batman – White Knight | Written and Drawn by Sean Gordon Murphy
Publication Date – October 2017 – May 2018
No. of Issues – 8
Type – Miniseries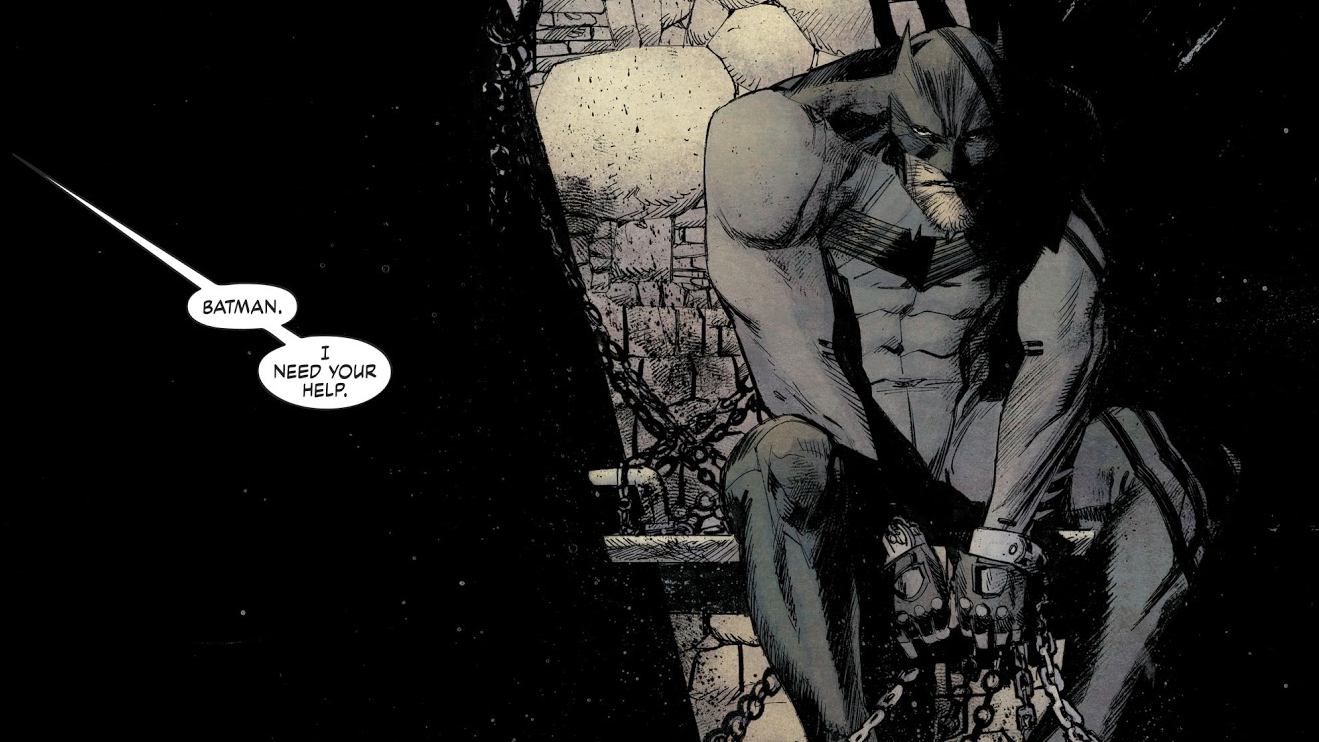 Creator Sean Gordon Murphy is a huge fan of Batman: The Animated Series as well as the Christopher Nolan-led Batman movies, and his artwork, with its sharp linework, screams anime inspiration. His world and iteration of the DC Universe thus feel like a remix of the different iterations of the aforementioned Universe in most media, but what stands out in 'Batman: The White Knight' is the story. It posits the simple question, "What if the Joker becomes sane?" Batman: White Knight explores a 'sane' version of the Joker, calling himself Jack Napier, who, with his fierce intellect, leads a crusade against Batman for all the damages caused by Batman's violent methods of vigilantism. Batman's troubles with his sidekicks compound this. White Knight thus chooses to explore the always fascinating Joker-Batman relationship through a different lens, and the result is an endlessly rich world that leads to sequels and spin-offs. But for my money, this first story is easily the best of the lot.
Sean Gordon Murphy is a comic book creator who started in the Star Wars comic line under Dark Horse before graduating to a slew of Vertigo titles like "Hellblazer" and "Joe the Barbarian" with writer Grant Morrison. He also collaborated with creator Mark Millar on "Chrononauts" and "Tokyo Ghost" with writer Rick Remender while writing and drawing the miniseries "Punk Rock Jesus" under the Vertigo Imprint for DC. He is currently working to expand the "White Knight" universe at DC Comics.
5. Batman and Robin | Writer – Peter J. Tomasi | Artist – Patrick Gleason
Publication – September 2011 – March 2015
No. of issues – 40
Type – Omnibus or Trade Paperbacks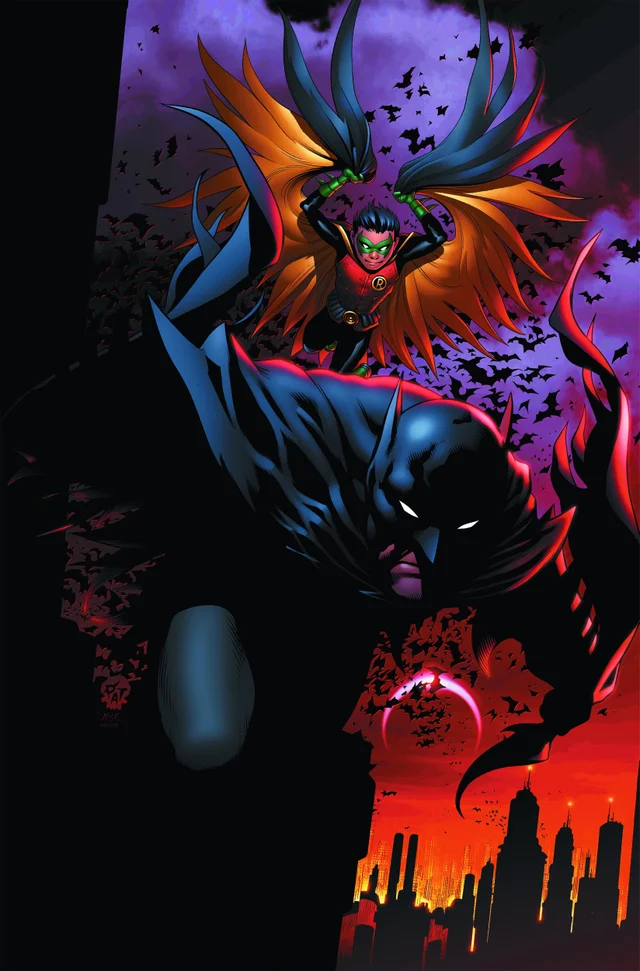 Relaunched with the New 52 initiative, where the entire DC Universe undergoes a line-wide reboot after the events of 2011's Flashpoint, most of Batman's previous history remains unchanged. Instead of having worked with Dick Grayson as Batman before, Damian Wayne, or the current Robin, has to contend with working with his father, Bruce Wayne, the Batman. This comic, at least for the first 17 issues, deal with the exceedingly contentious relationship between father and son, their different crime-fighting methods and methods of delivering justice, and the family dynamic between Damian and his father and their butler, Alfred Pennyworth. But after the events of "Batman Incorporated" #8, where Damian Wayne dies, "Batman and Robin" goes through the "Requiem" arc for the rest of its run, where it explores Batman going through the different stages of grief over the loss of his son, as well as searching for a method to finally bring him back (because it is the DC Universe and there are methods). But "Batman and Robin" is one of those series to read because it chooses to explore Bruce Wayne as a father, his defects as such, and yet his attempts to succeed as a father to a son who had grown up under extremely unique circumstances.
Conversely, it also explores Damian Wayne trying to break away from his programming, which had been fed to him by his mother and grandfather from the League of Shadows, and living up to his father's expectations. It becomes a tragic, whole, and ultimately poignant portrayal of a father-son relationship. That portrayal is helped by Gleason's cartoonish and expressive artwork, which is gorgeous in its evocation of vulnerability and strength simultaneously.
Peter J. Tomasi is an American comic book editor and writer. He had risen through the ranks of the DC Comics bullpen by overseeing numerous mainline DC Comics titles, including the Justice League. He started his career as a DC Comics writer with the "Green Lantern Corps" ongoing series, which launched along with Geoff Johns's Green Lantern run. He was also responsible for the screenplay of the animated movie "The Death of Superman." Patrick Gleason is a comic book artist who started with Marvel Comics' "X-Men Unlimited" but is well known for his work at DC Comics from the early 2000s to the present day.
4. Batman – The Dark Prince Charming | Written and Drawn by Enrico Marini
Publication Date – November 2017 – June 2018
No. of Issues – 2
Type – Graphic Novel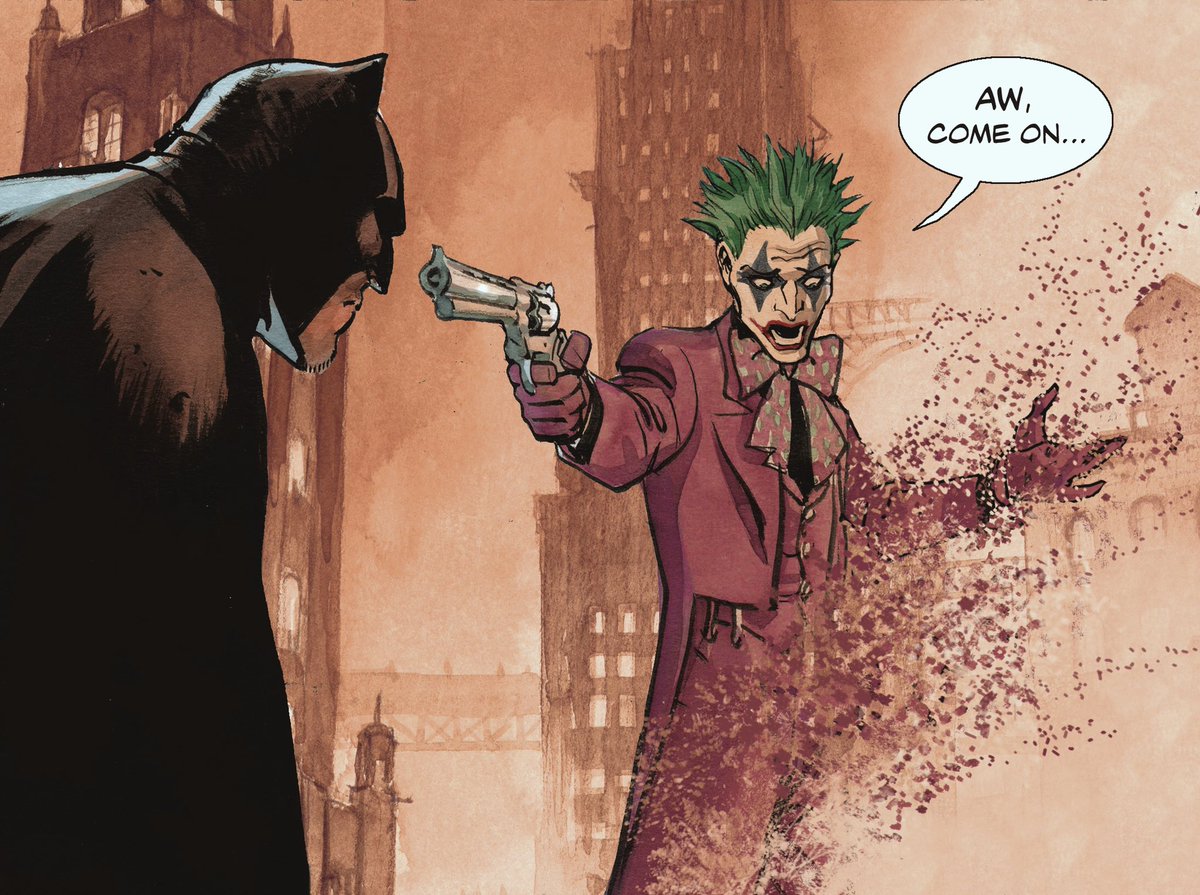 In a two-volume graphic novel in collaboration between DC Comics and French comic publisher Dargaud, writer-artist Marini bases the story on his fandom for "Batman: The Animated Series." The story follows the Joker, who, while chased during a heist, loses a set of pearls he intended to gift to his sidekick and lover, Harley Quinn. Harley's interest in another jewel, "Bluecat," coincides with Bruce Wayne being hit with the paternity suit of a young, precocious eight-year-old girl, Alina. As fate would have it, the Joker kidnaps Alina for ransom to buy the "Blue Cat" jewel while Batman searches Gotham City high and low for the Joker and maybe his daughter. The story oscillates between fun and adventure with occasional bouts of dark humor, especially with the Joker trying to make friends with Alina in his off-beat fashion. Marini also manages to keep the mystery intact about the paternity of Alina throughout the story, introducing a new wrinkle along the way. Drawn in the clean style, you would notice in Marini's European outputs like Eagles of Rome, Marini keeps the action clean, cinematic and the pacing smart and continuous, making it feel like you are reading an episode of "Batman: The Animated Series" in comic book form.
Enrico Marini is an Italian comic book artist and writer most well-known in the European comic book space. His famous works include "Le Scorpion," by Stephen Desberg, and "Eagles of Rome."
---
---
3. Batman by Tom King and Lee Weeks – The Deluxe Edition | Writer – Tom King | Artist – Lee Weeks
Publication Date – November 2020
Type – Trade Paperback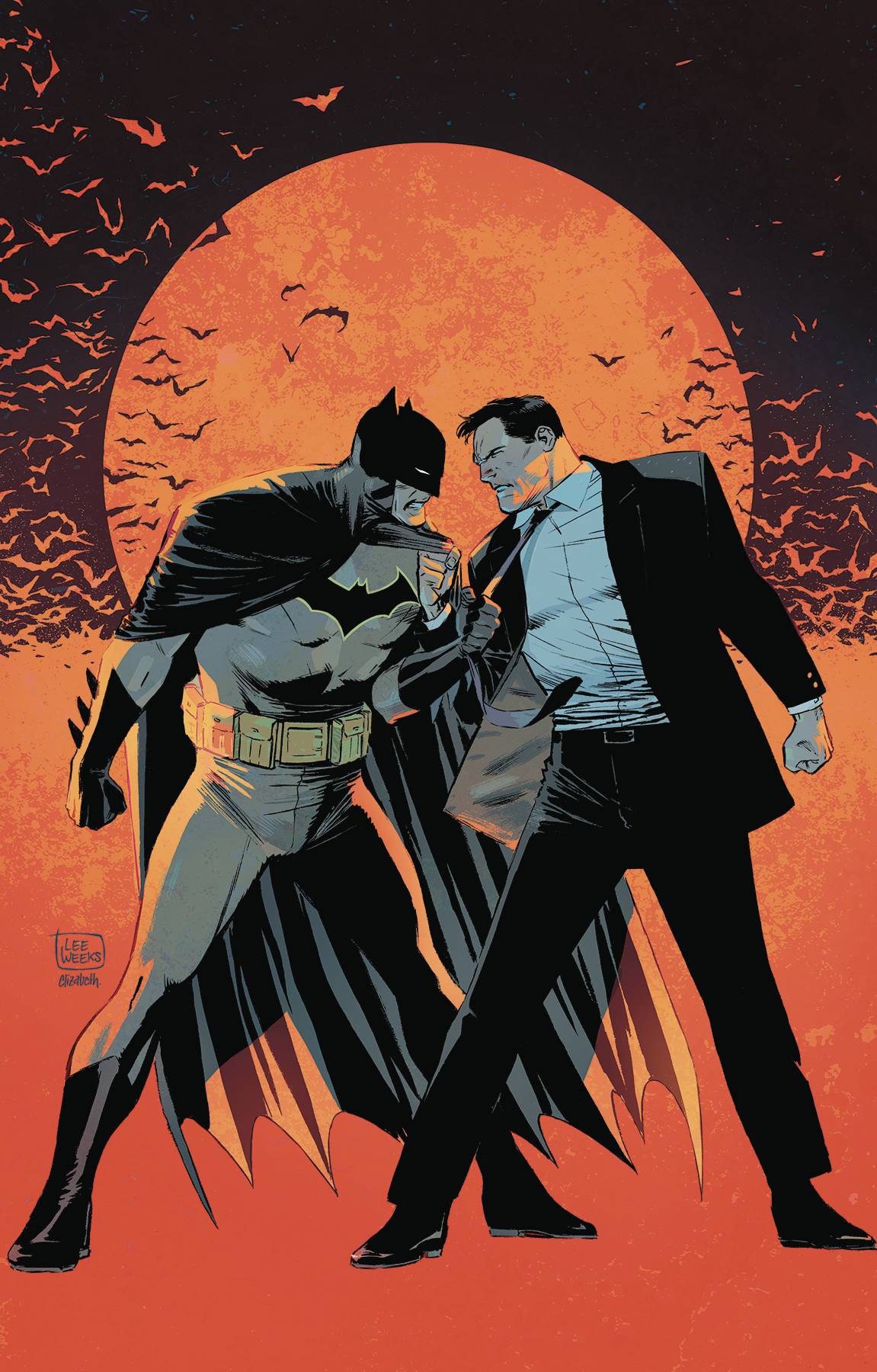 To call Tom King's run on Batman divisive is a massive understatement. Tom King, in his signature style, wanted to write a deconstructionist and interiorized tale of Batman, and while King is great with this style of writing in limited issue runs (12 issues or six issues), this approach towards a run that spans 85 issues was spotty at best and sluggish and meandering at worst. But there were bright spots in that run that could only be described as almost incandescent and revealing, even though the overall run is mired in continuity by King's baffling choices. This collection contains the stories King wrote in collaboration with artist Lee Weeks. Surprisingly, those stories are some bright spots in this run, conveniently collected in this trade paperback. In the "Cold Days" story arc (Batman v. 3 #51–53), Bruce Wayne is invited to jury duty in the case of Gotham City vs. Mister Freeze, where Mister Freeze, one of Batman's oldest foes, is arguing against Batman having used unreasonable force. It's "12 Angry Men," with Bruce Wayne surprisingly becoming the 12th juror as he has to reckon with his troubles and how they affected this case without revealing his dual identity to the rest of the jury members. The story "Some of these days" (Batman v3 Annual #2) deals with the ever-increasing and simmering romance between Batman and Catwoman, as Catwoman leaves "gifts" around Wayne Manor for Bruce Wayne to find, while in a possible future, it shows an older Bruce Wayne and Selina Kyle having to deal with Wayne's dementia and the end of their days.
It is a beautiful, heartwarming, and also sexy encapsulation of the romance between Batman and Catwoman, which is an integral part of King's entire Batman run. Finally, in Batman-Elmer Fudd Special #1, King takes this surprising crossover between the DC Comics characters and Looney Tunes characters extremely seriously as he spins a yarn with both Elmer Fudd and Batman searching for the femme fatale Silver St. Cloud. The tone of this story is full of classic noir tropes, and it is a hoot to read. Artist Lee Weeks crafts these characters with strong and sharp features underlined by deep shadows, reminding you of classic Hollywood actors and those black and white films, as well as the emotional weight of all these stories present in this collection.
Tom King is an American comic book writer who brought his ex-CIA officer experiences to the critically acclaimed story "Sheriff of Babylon" with artist Mitch Gerards. He then follows it up with acclaimed miniseries like "Rorschach" (with Jorge Fornes), "Strange Adventures" (with Mitch Gerards and Evan "Doc" Shaner), and "Supergirl: Woman of Tomorrow" (with Bilquis Everly), which is soon going to be made into a motion picture. Lee Weeks is an American comic book artist who has worked extensively for Marvel and DC Comics. He has also been a storyboard artist for "Superman: The Animated Series."
2. Batman Universe | Writer – Brian Michael Bendis | Artist – Nick Derington
Publication Date – September 2019 – February 2020
No. of Issues – 6
Type – Limited Series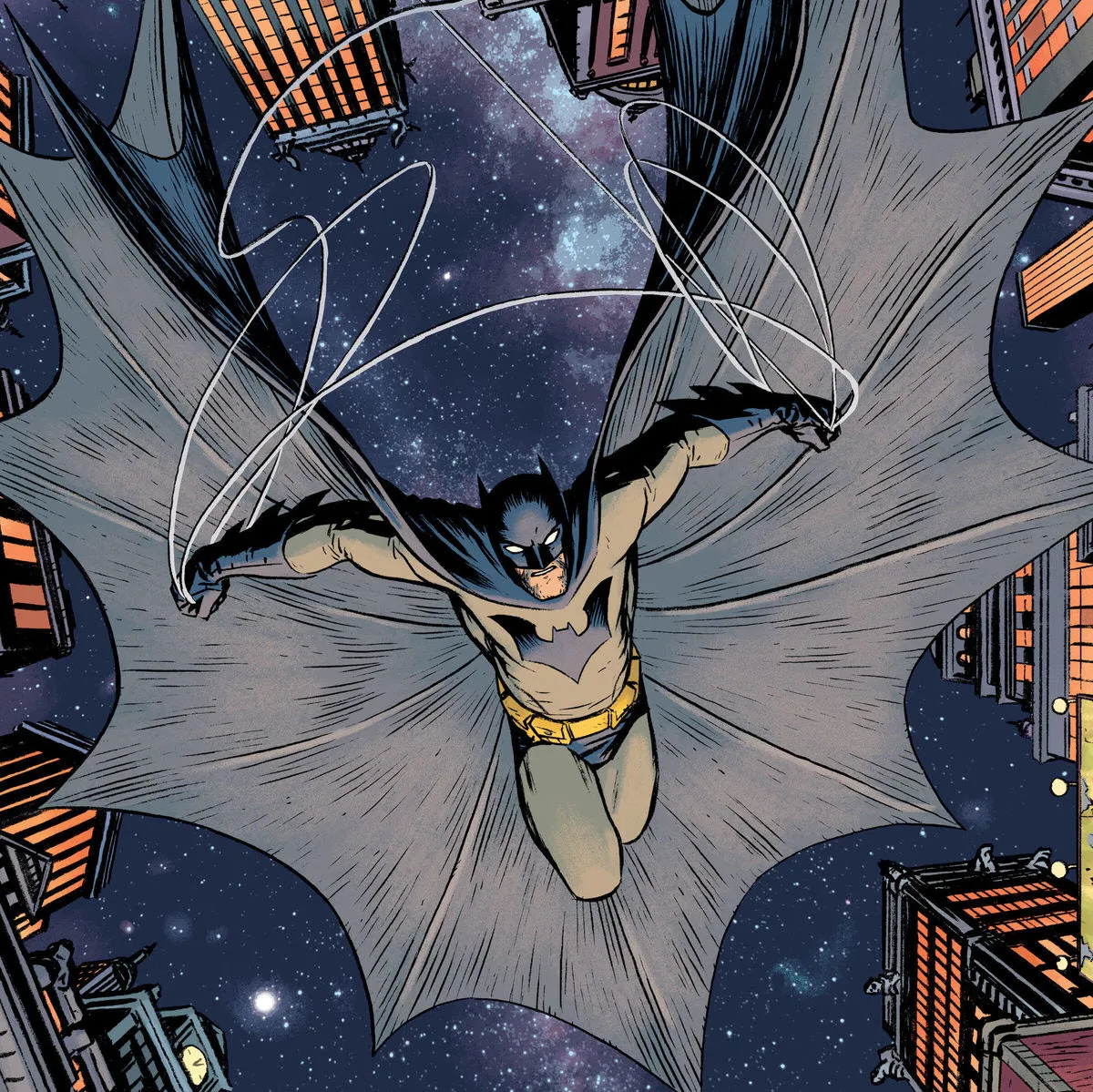 If any Batman comic could be recommended as an "all-ages" comic or an instant classic bordering on timeless, Batman Universe stands near the top of that list. The strange name aside, Batman Universe is named because it follows the exploits of Batman on a globetrotting, universe-trotting adventure in search of a missing Faberge Egg, which contains a unique weapon. The story hearkens back to the silver age because, even with world-ending stakes, it never loses its fun vibe. Bendis writes Batman with an all-knowing yet self-aware effortlessness and also focuses on his interactions with the larger and broader corners of the DC Universe, be it his former sidekick, now crimefighter Nightwing, or Justice League compatriots Green Arrow and Green Lantern, or other inhabitants in the larger cosmos, be it the inhabitants of the Gorilla City or the Thanagarians. But Bendis' clever and fun writing would not work if it hadn't been elevated by the gorgeous and clean-lined art of Nick Derington. Derington's uniqueness is in his panel layouts and perspective. The opening sequence is from the first-person perspective of Batman driving the Batmobile, vaulting out of it, and catching the robber. Its presentation is gorgeously rendered and almost cinematic, making the comic an extremely dynamic one to read.
Brian Michael Bendis is a comic book stalwart, having been a veteran in both the mainstream and indie scenes. He is most famous for writing "Ultimate Spider-Man", with 150 issues uninterrupted with artist Mark Bagley. He is also credited with creating Miles Morales in the Ultimate Universe and Jessica Jones and Riri Williams (Ironheart) in the mainline Marvel Universe while simultaneously being the unofficial architect of the mainline Marvel Universe for over a decade. In the DC Universe, he is credited with creating the character of Naomi McDuffie while having written the Superman line of books for over two years. In the indie scene, he is responsible for the creation of "Powers" with artist Michael Avon Oeming while also creating "Pearl" (with artist Michael Gaydos), "Scarlett" (with artist Alex Maleev) and other independent comics for his creator-owned "Jinxworld" imprint. Nick Derington is a comic book artist who became prominent while working on "Doom Patrol" with writer Gerard Way under the Young Animal Imprint. He has done cover art for several DC Comics while also doing interior art for "The Next Batman" and two issues of "Batman-Superman".
1. Batman – The Court of Owls Saga | Writer – Scott Snyder | Artist – Greg Capullo
Publication Date – November 2011 – September 2012
No. of Issues – 11
Type – Trade Paperback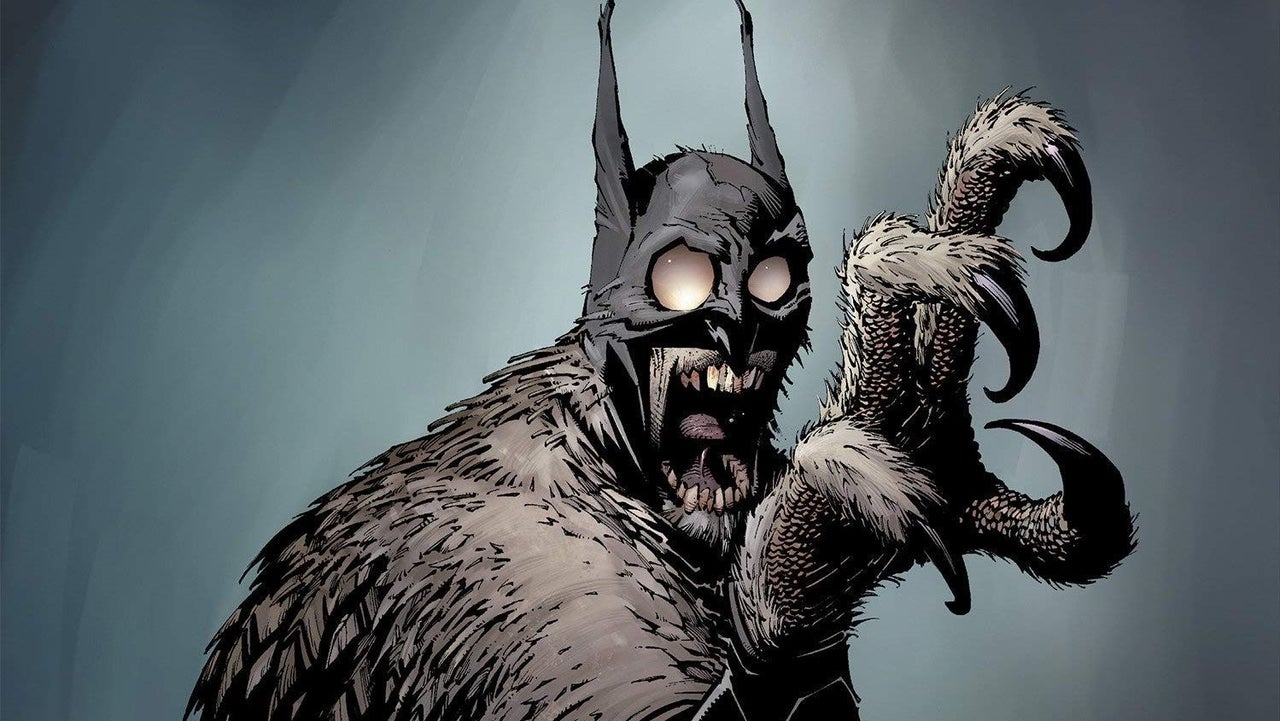 Scott Snyder was already a rising star writer in the comic book industry when he was handed the reins of the mainline Batman book to relaunch under the New 52 initiative, where the whole DC Universe gets rebooted and gets a fresh start. With collaborator Greg Capullo, Snyder begins the first arc of his long Batman and DC Comics run with a literal bang. The Court of Owls saga deals with a mysterious organization acting within the underbelly of Gotham City whose tendrils reach back to the city's inception. This is an entirely new enemy introduced in the Batman mythos.
The genius of the storytelling is that the clever retconning and introduction of them within the city's past shakes Bruce Wayne's foundation about a city he is supposed to know intimately. This is also complemented by the undead villains, Talons, and, of course, the dynamic action set-pieces, crafted and drawn meticulously by Greg Capullo and coloured by Jonathan Glapion. Capullo delves deep into his horror roots to show Batman's paranoia, especially in a particularly horrifying sequence where Batman imagines himself turning into a literal bat. This is Snyder and Capullo crafting a summer blockbuster with exciting and compelling development for a character who has been around for more than 80 years. And while Snyder goes bigger and darker with each of his subsequent arcs ("Death of the Family," "Endgame," Dark Nights Metal"), this first story is still the lightning in a bottle and the peak that Snyder still has to touch, perhaps only reached by his re-imagining of Batman's origin in "Zero Year." A fantastic and timeless Batman story with a compelling mystery at its center, this is an absolute must-read.
Scott Snyder had been a struggling novelist before getting his hands on comic books. He is mainly known for his work in DC Comics, especially his runs on "Batman", "Swamp Thing", "Detective Comics", and "Justice League". He is also known for crafting the Vertigo series, "American Vampire," with Rafael Alberqurque and his independent work under his creator-owned imprint, Best Jackett Press. Greg Capullo is an American comic book artist who is famous for his work for "Spawn", "Quasar", and finally, his collaboration with Scott Snyder on "Batman" and the "Dark Nights Metal" and "Dark Nights Death Metal" DC Comics events. He has also collaborated with writer Mark Millar on the series "Reborn".