Shrilal Shukla's book, The Selected Satire: Fifty Years of Ignorance, is an English-language collection of 25 short prose pieces written to read like a mirror image of North Indian society. These pieces have been translated into English by Matt Reeck for Penguin Random House, India. Fifty Years of Ignorance, spanning over 427 pages, is a collection of all of Shukla's satirical pieces outside his most recognized work of fiction, Raag Darbari, and the titular collection in discussion is meant to read like a short introduction to Shukla's satire writing. These pieces range from interview excerpts and long episodic stories to first-person narrations and letters, all written with a critical eye and a flair for self-deprecating, exaggerated humor. 
About the Author
Born in 1925, Atrauli, Mohanlalganj, Shrilal Shukla is most popular for his novel Raag Darbari (1968). It won him the Sahitya Akademi Award in 1969. After graduating from Allahabad University in 1947, he joined the Civil Service two years later, in 1949. His role as a PCS officer with the Uttar Pradesh government possibly forms the root of his scathing observations about the common people and the government. His first novel, Sooni Ghati Ka Sooraj, was published only in 1957, followed by his first book of satire, Angad Ka Paanv (1958). Later in life, he served as a member of the Advisory Board of the Sahitya Akademi from 1982 to 1986. Shukla also received numerous awards for his remarkable contribution to the canon of post-independence Hindi literature, including the Padma Bhushan in 2008 and the Jnanpith Award in 2011. He passed away at the age of 85 in 2011, leaving behind his willowy humor in over 25 books. 
Analysis of the Book
Satire is a literary device crafted with the help of exaggeration, irony, and humor to draw a sharp socio-political and cultural commentary on people or their states of affairs. On the other hand, humor writing is a fairly difficult style to crack. The writer is required to be silly enough to crack jokes but not tip their balance to land them in banality. The jokes must be cracked at regular intervals without making the text too opaque with it. One of my personal favorite books in Indian English literature that just manages to fuse satire with humor writing is Upamanyu Chatterjee's "English, August" This novel tells the story of Agyasta Sen, a city-bred boy who must deal with the ground realities of rural India in his maiden posting as a civil servant trainee.
The curious thing about Shukla's writing is how it intertwines humor writing with satire. In Curfew in the City, Shukla has drawn a comparison between curfews and public bathrooms, calling them both a form of terror ("Even dogs and cats know that."). He says neither of them has been prescribed in the criminal law book or a health manual, respectively. He carefully tries to trace the event of the curfew back to its historical roots and is left with the realization that "India has held on to curfews like a foolproof remedy against insurrection."
---
Another prose piece in this book, Too Little, Too Late, begins with the following words:
"Beating a dead horse has always been one of my hobbies. This time, it's a donkey. But still, I'm hard at work beating it!"
---
Here, the idea of spending energy on something that cannot be modified has been conveyed right at the start to prepare the readers for a story of a hopeless cause. Now, addressing this incorrigible act as a donkey helps bring a layer of stupidity to the idea, garnishing it with humor. The very next paragraph introduces us to the satire that Shukla has framed. It is the story of Sahmat, who was brave enough to hold an exhibition on the Hindu mythological figure, Ram, in Ayodhya and has now given rise to a wildfire of hurt religious sentiments across government ranks in the country. 
The exaggeration will crack you up and leave you sweating because of the morbid real-life possibility of this incident taking place in contemporary Indian society. This also makes Shukla's prose a classic to fall back upon. It is carefully critical and ironic, at the same time, without expressing any interest in bringing a change that most satires eventually settle for. Shukla's short prose pieces only seek to wash away the dust gathered around the rim of your glasses and help you see the many social realities from an objectively critical point of view.
Shukla is also observing people – their attitudes towards each other, their appearances, and their words – in these twenty-five prose pieces. In the opening piece of the book, The Grand Motor Driving School, Ustad Ji meant to teach driving to the author was himself unaware of how to drive cars. His repertoire comes from the stories he has heard from his nephew, a driver of humble beginnings who has now become the transport minister. He calls himself a VIP and gives lessons on cars without actually touching any car parts; the cleaner does it for him. In Interview with a Defeated Politician, he begins by saying that he mistook the said politician "for a piece of furniture on the verandah", further explaining that "he was standing there like Napoleon after his defeat at Waterloo". The characters he writes about are intrinsic to the fabric of society. He only de-robes them of the popular romantic imagination and situates them in ground realities. 
However, the best part about Shukla's writing is the self-sabotaging humor that even the narratorial 'I' has not been able to get away from. In Doordarshan's Worldview, he begins by expressing his love for witnessing a politician take a bribe. He immediately follows up his excitable confession with "-please forgive me for saying so!" In The Grand Motor Driving School, he draws a scathing sarcasm on writers (and himself) by calling them unemployed and linking the act of being unemployed with the profession of writing.
Final Thoughts on The Selected Satire: Fifty Years of Ignorance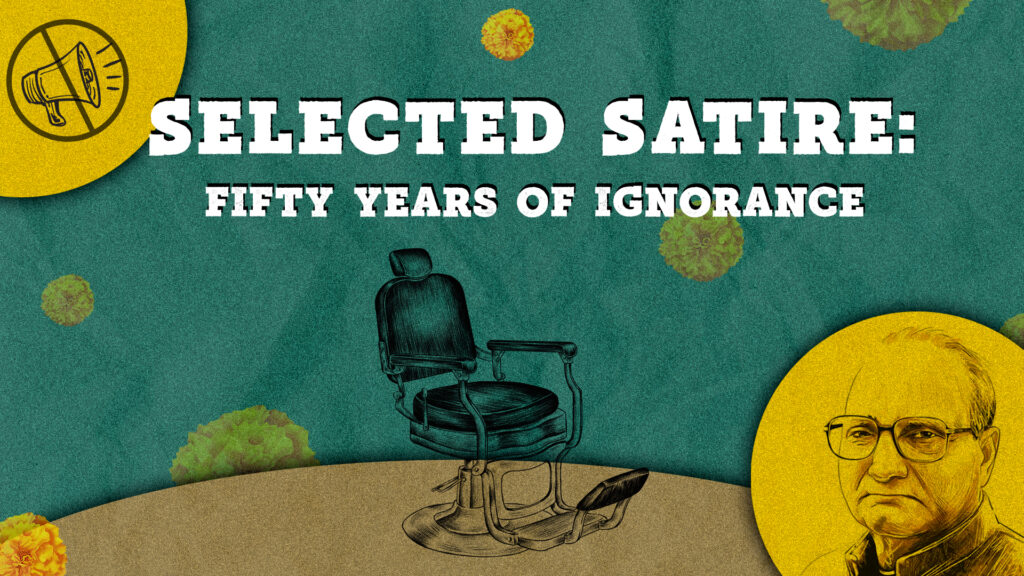 I was particularly fascinated by Shukla's writing because of how true it rings even in the current political context. From the reaction of political leaders to the effect of curfews, these societal truths have remained unchanged over the years. Shukla's prose, even though written in the latter half of the 20th century, goes on to display the prism of socio-cultural morality that Indians have fallen prey to in the years following our independence from British rule. There is a hint of self-deprecation in some of the pieces, reminding us that the author himself was a part of the government ranks he seeks to criticize. Shukla's writing feels timeless. I hope more of his works find themselves in the hands of translators who appreciate the Hindi language and the simplicity of his writing to hold up his cleverness and its valuable contribution to modern South Asian literature. 
---
---